Discover : Orange County Resort Hampi and Experience a Luxury Resort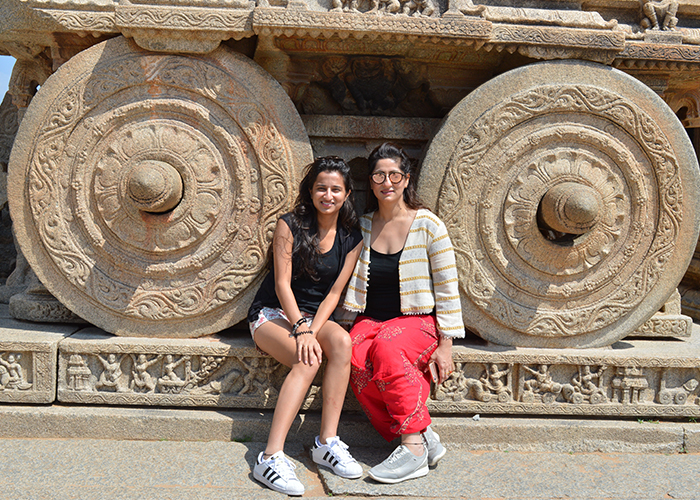 Karnataka's most illustrious and historic temple town of Hampi  has welcomed the arrival of The Orange County Resorts, an independently operated and luxurious  room and villa five-star resort. This July, The Orange County Resort opened and is a new benchmark in hospitality that combines old world era charm and service with 21st century design and convenience.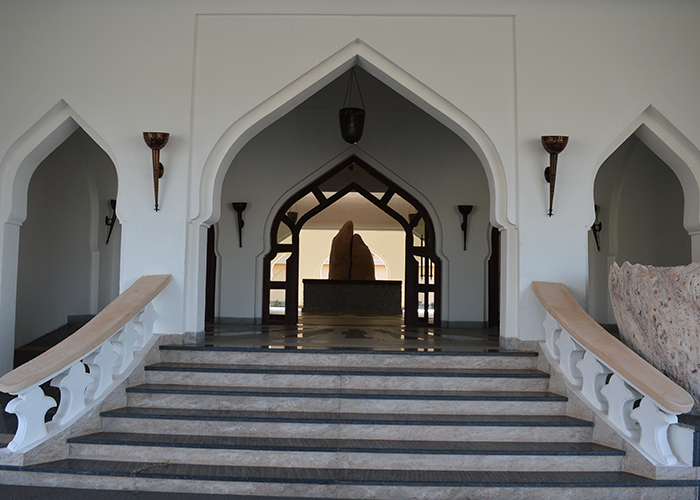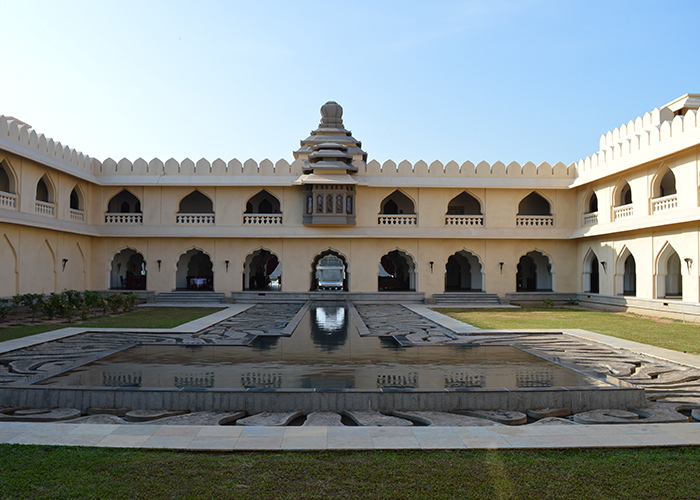 There are many reasons for remembering luxury resorts.  Mostly we stay in one knowing we may never be able to revisit it and yet, that very hotel occupies a big piece of one's heart and mind for a long time to come. For those like me, who have to be flitting like a butterfly from one property to another, means particular points need to stand out.  Like the quality of the hair dryer is an essential Unique Selling Point, other USPs, say gyms, pillows, teas in the room, breakfasts, glassware – I'm a bit obsessive about good and the right kind of glass used for a drink (no compromise here), also smiles and service generally and overall are essentially added to my must-have list. Sunsets provide another aide-memoire.
I am lucky enough to have seen superb sunsets around the globe.  And The Orange County Hampi, is another beautiful sunset etched in my memory.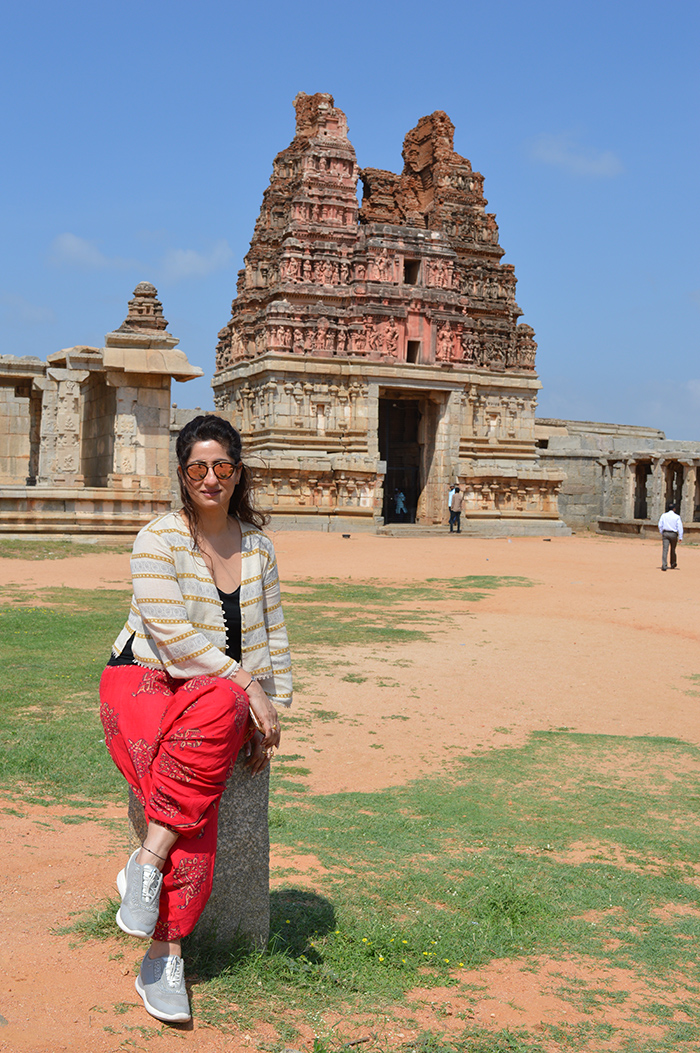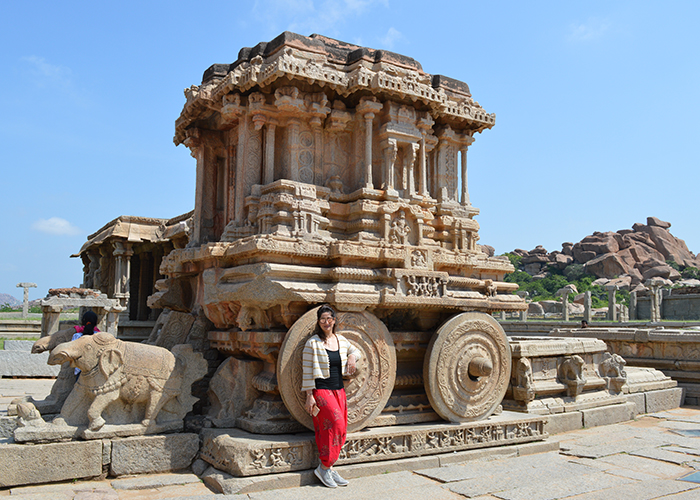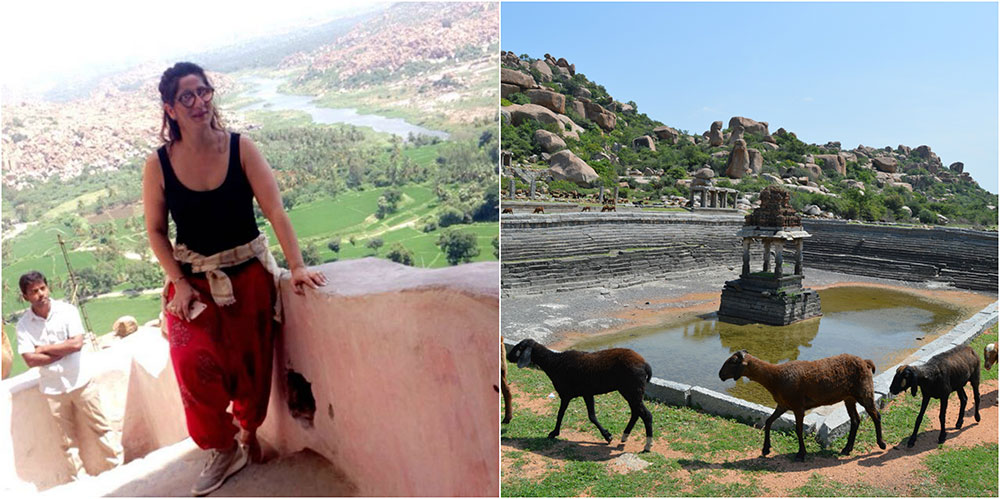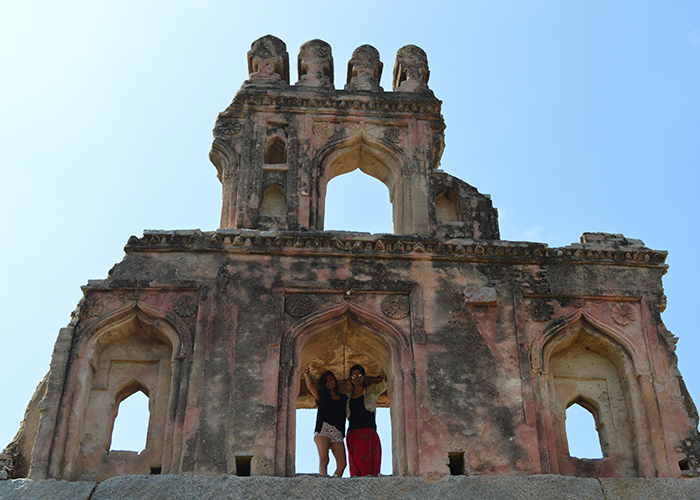 Escape: Orange County Resorts Hampi at Jal Mahal Suite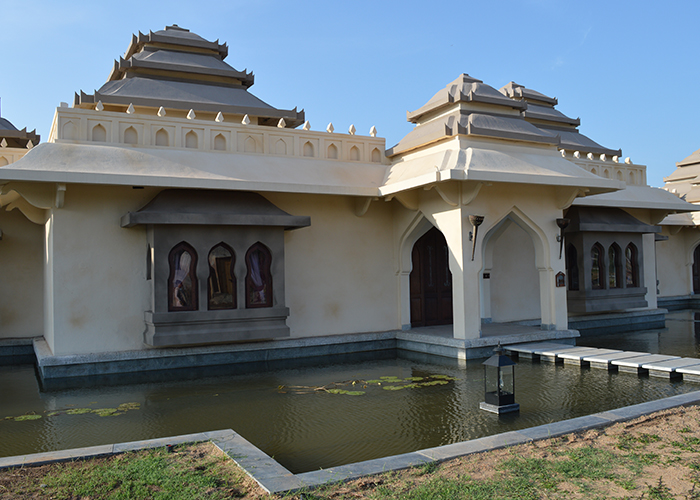 The phrase 'home away from home' is as passé as 'redefining luxury' (the latest to say this is Mr. Jose T Ramapuram , the seasoned Owner and Hotelier is also the Director Marketing and own the the glorious Orange County Resorts chain primarily down South). Incidentally, Hampi has also been recognized as a World Heritage Site by UNESCO.
Anyway, forget home away from home.  My humble home, the bolthole that keeps me sane, is as different from my private pool villa number 303 – Jal Mahal, at Orange County Resorts, Hampi, as chalk is from cheese.  Yes, my home has water, in the form of rain and this villa has its very own private pool with a Jacuzzi, minor difference!!  The Jal Mahal villas are designed like the palace of the younger Queen of Krishnadevaraya , which was built around an artificial water body.
This is one home one would not mind having. Even the half-mile cobbled drive down from the main entrance of the hotel, going through the vibrant landscaped surroundings a-colour of bright flowers and lotus' in the water bodies (and they have hundreds or maybe more) is impressive.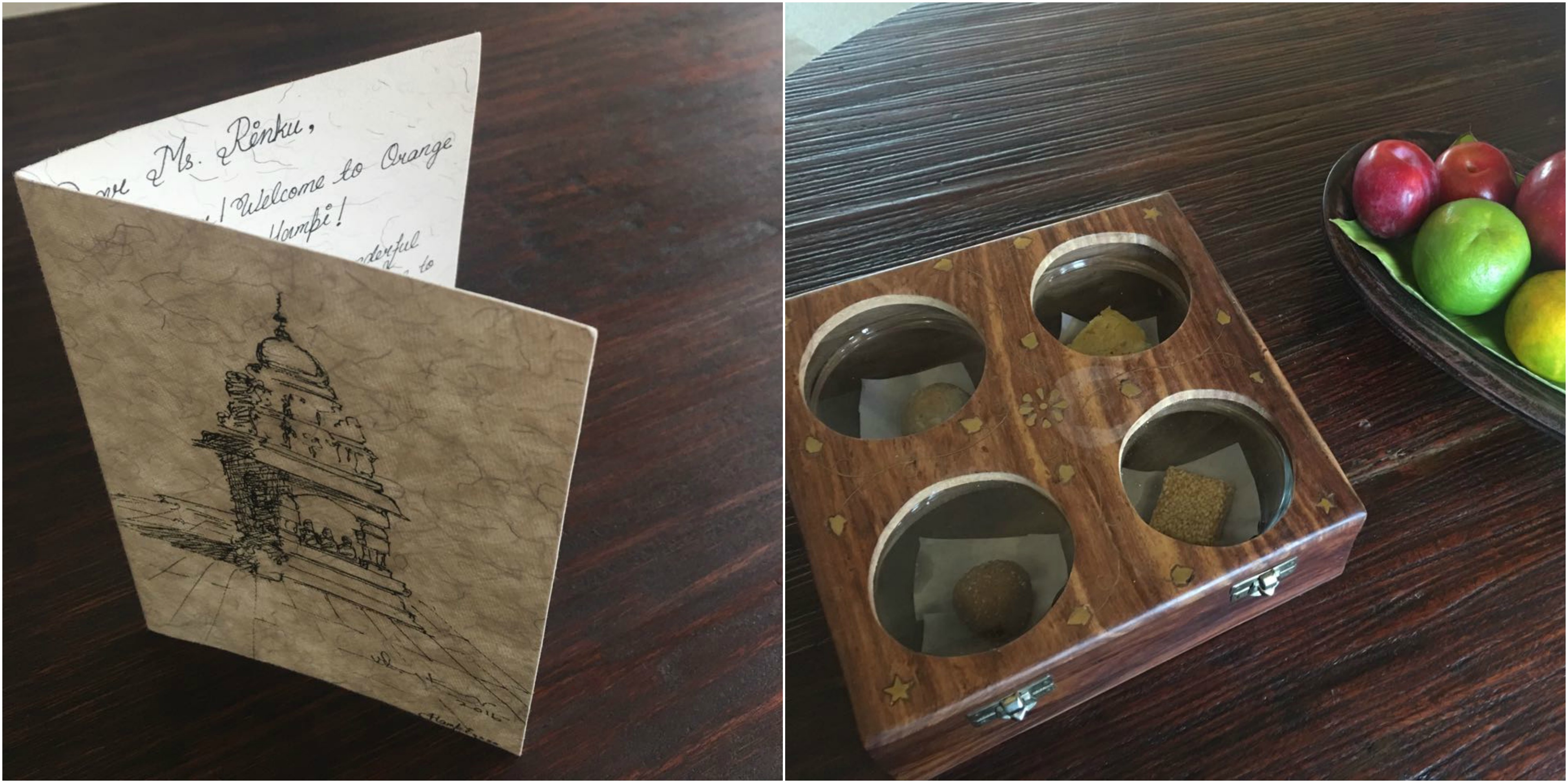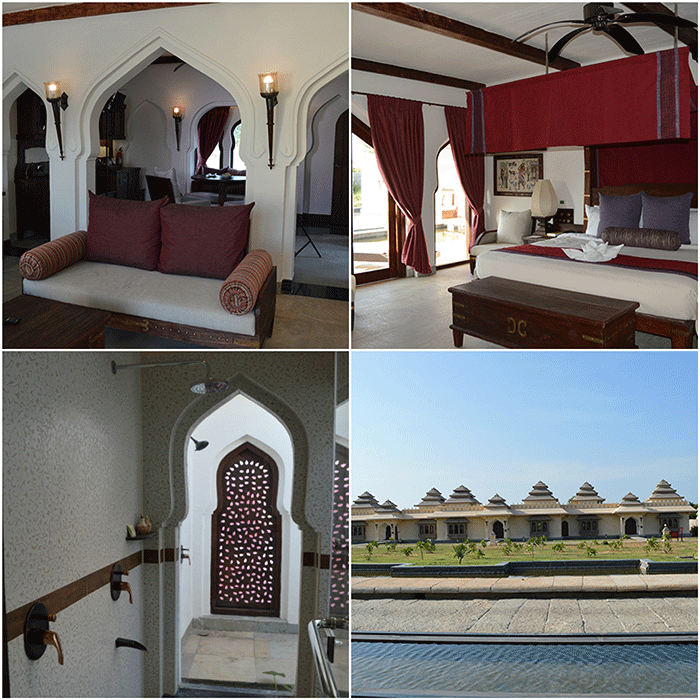 The design concept has been borrowed from the Vijayanagara Empire, specifically from the Royal Enclosure and the Queens Quarters.  And has been conceptualized by Mr. George T Ramapuram, Owner, Managing Director and architect/project of the Orange County Properties.
I love history, and was very intrigued with the Vijayanagara way-of-life that the much-missed King Krishnadevaraya, who reigned from 1509-1530, spent decades planning and compiling. Now, with the Ramapurams at the helm, Orange County Resorts, Hampi is a 18.42-acre lifestyle dream. Only a small  percentage of the land has been landscaped and built on. This is nature, plus fresh air, great sunsets and superb quality lodging. Orange County Hampi is also a family-friendly luxury resort. You could call the Jal Mahal Villas sort of a Luxury Collection, for those who want more space, and the joy of having, a private pool and the works . The villa 303 (2,600 sq ft interior plus 418.8 sq ft of  pool). There are over  129 people looking after all this space . I spoke to some of the staff , including a former naturalist, and my guide for the trip – Bhanuprakash, they're all passionate, empowered and really enthusiastic about wanting to share the quality of real life that you find here.
Breakfast for me was the highlight, they especially arranged for me in my villa by my pool. The fresh juices, identifiable by slices of fruit in front, were magnificent, as were the selections of home-made yoghurts, fresh Appams and dosa etc. The other magnificent mention is the French Press placed in the villa, with the simply superb coffee from the Ramapuram's very own coffee estates of  Sidapur.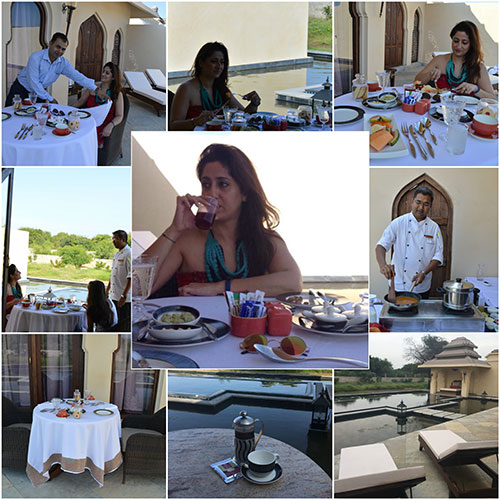 We talk nonstop. Listening to interesting anecdotes by Joydeep Bannerjee, the General Manager of Orange County Resorts, Hampi. The company which so brilliantly has thought up and now created this masterpiece that is on at par with the Ramapuram's eco friendly hideaways, at Coorg and Kabini.
Authentic Vijayanagara Cuisine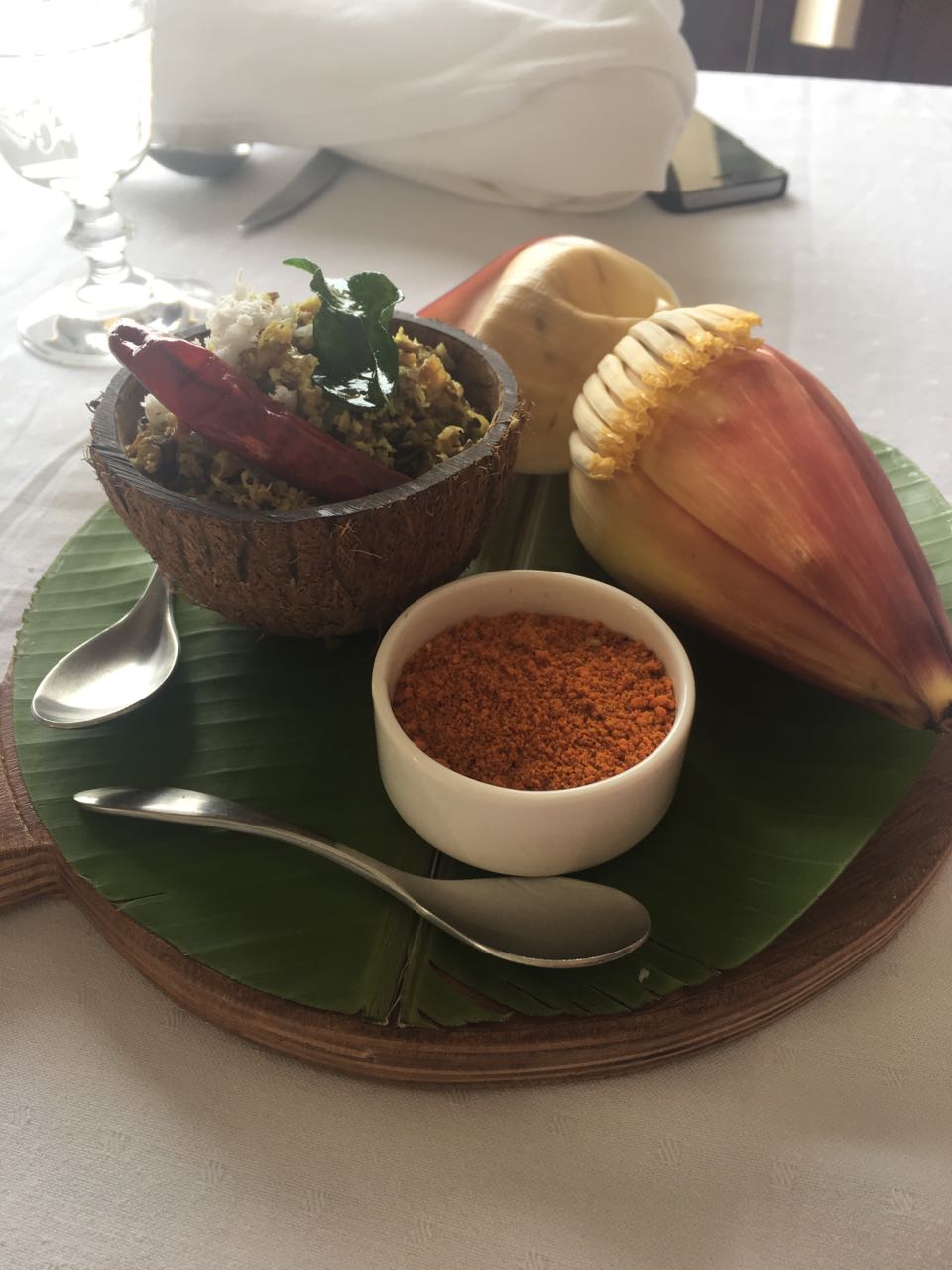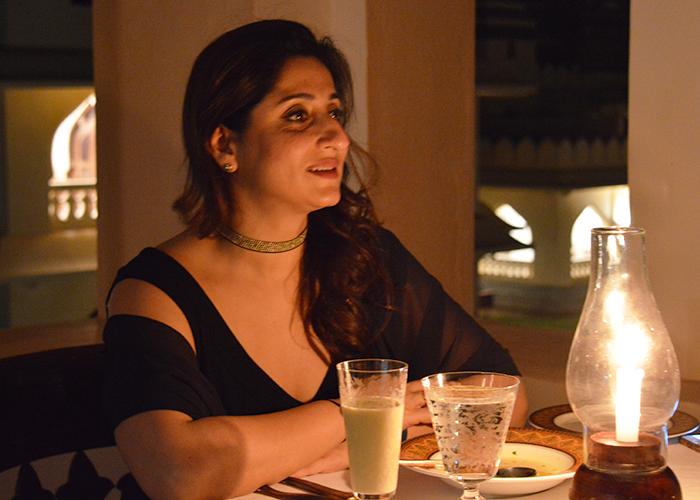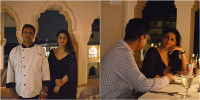 The hotel guests, can dine in the 2 restaurants, which offer everything from traditional Vijayanagara cuisine to great nawabi, European, Italian and more. I was with the GM of the hotel, Mr. Joydeep Banerjee, and I went really local, which included Kori Ulva Charru -Traditional pureed horse gram soup,with combination of chicken & asafetida & curry leaves, Obattu Rasam – Rasam in traditional way with Bengal gram dumpling, and absolutely superb Royyala Kura – Prawn cooked in a tangy paste of tamarind & onion, cooked until it melts, with a home-made paste of tamarind, onion and herbs. All this went beautifully with the organic wine from the Krsma vineyards right here in Hampi, labelled 2014, one of their best produce.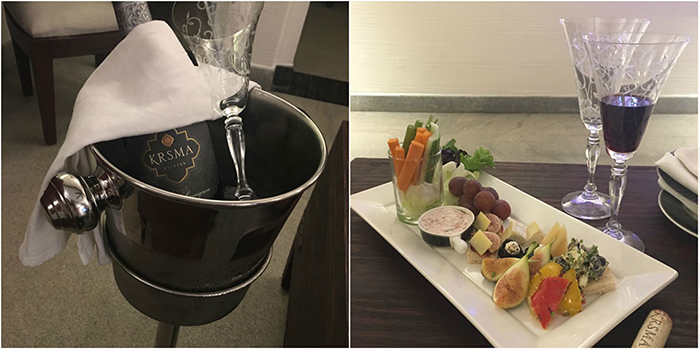 Recreate And Discover History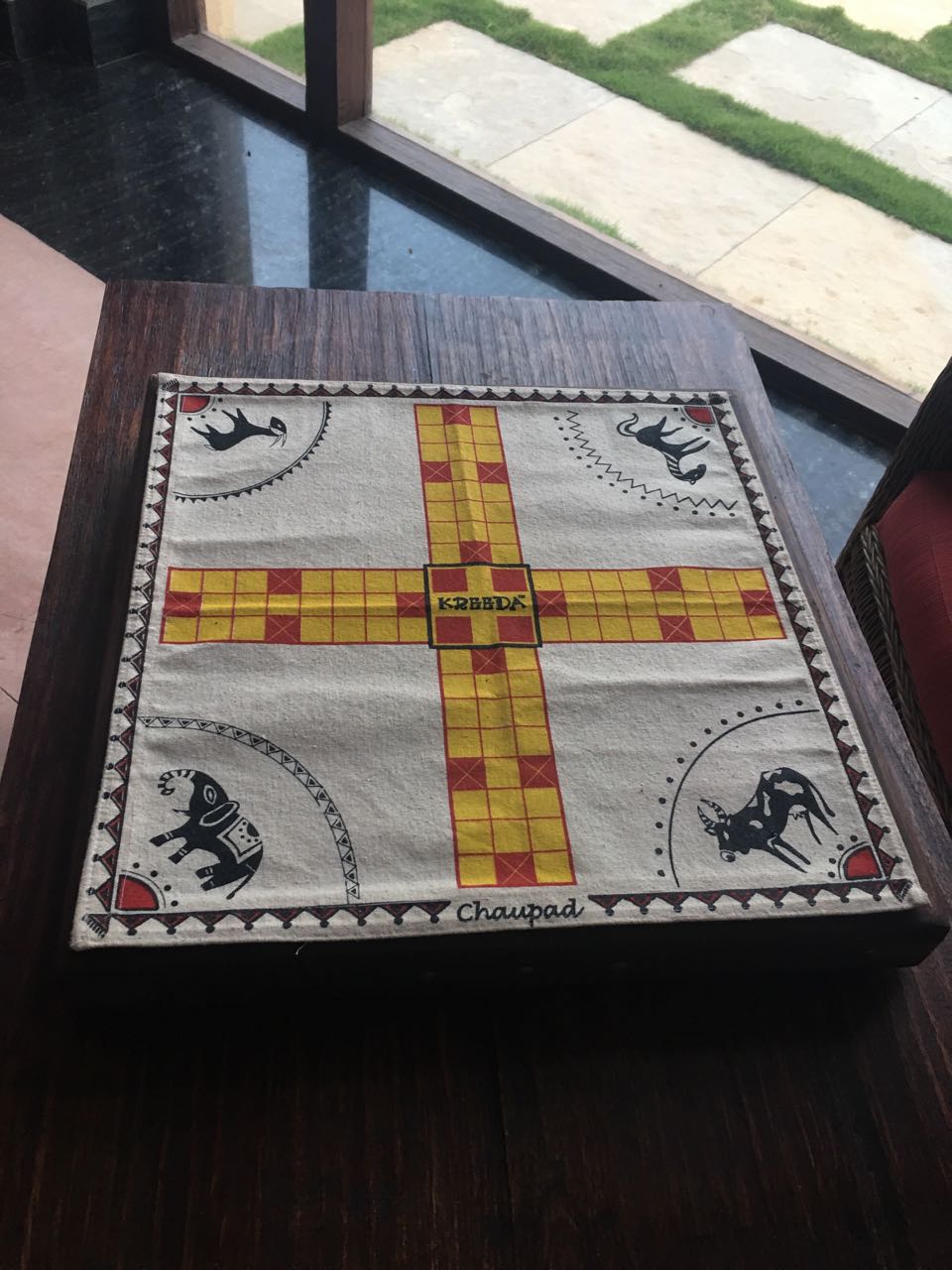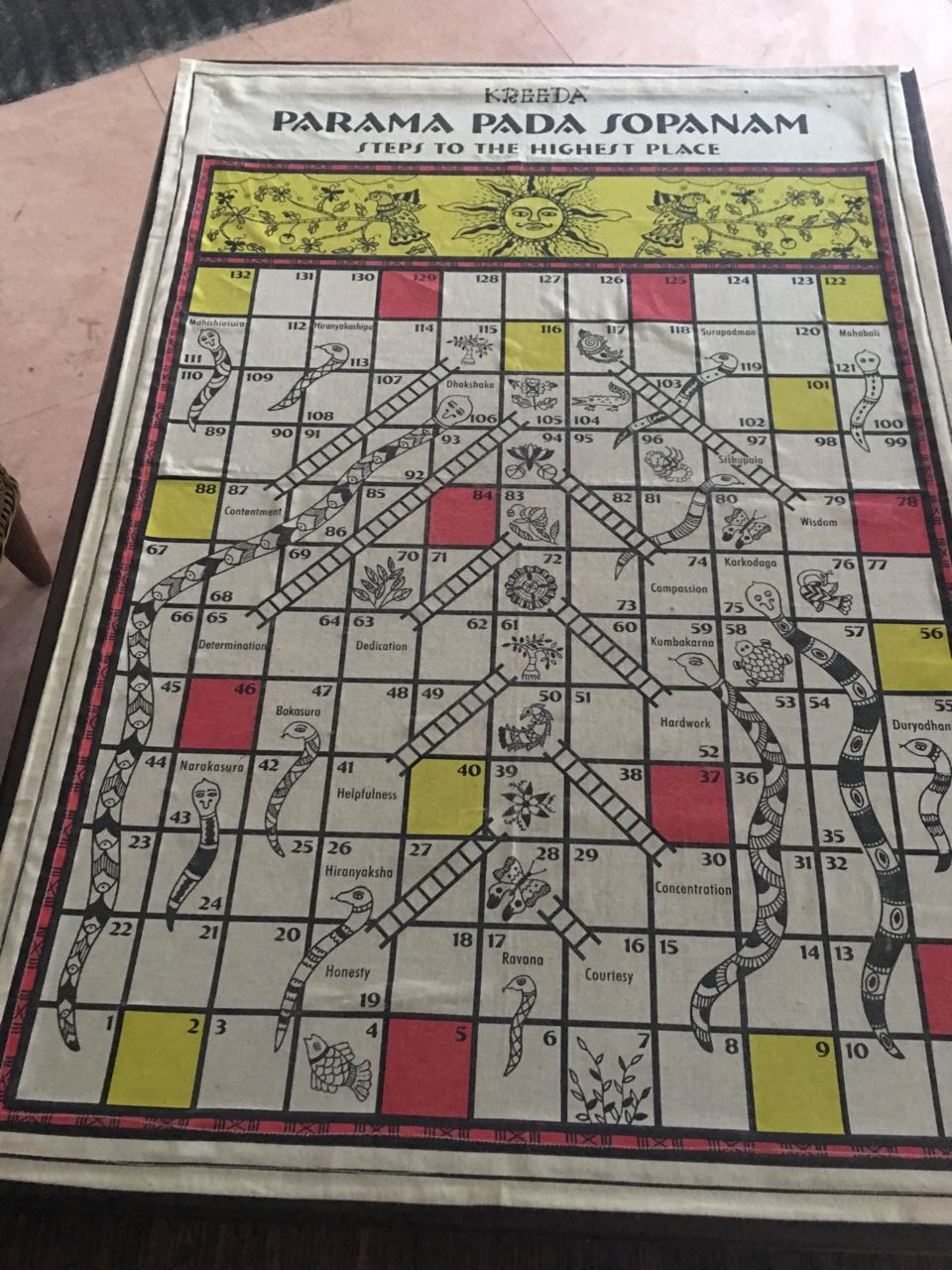 You take an eight-minute buggy ride around the 'palace' areas of the resort, taken through by a cheerful woman in a palace themed yet contemporary khaki attire.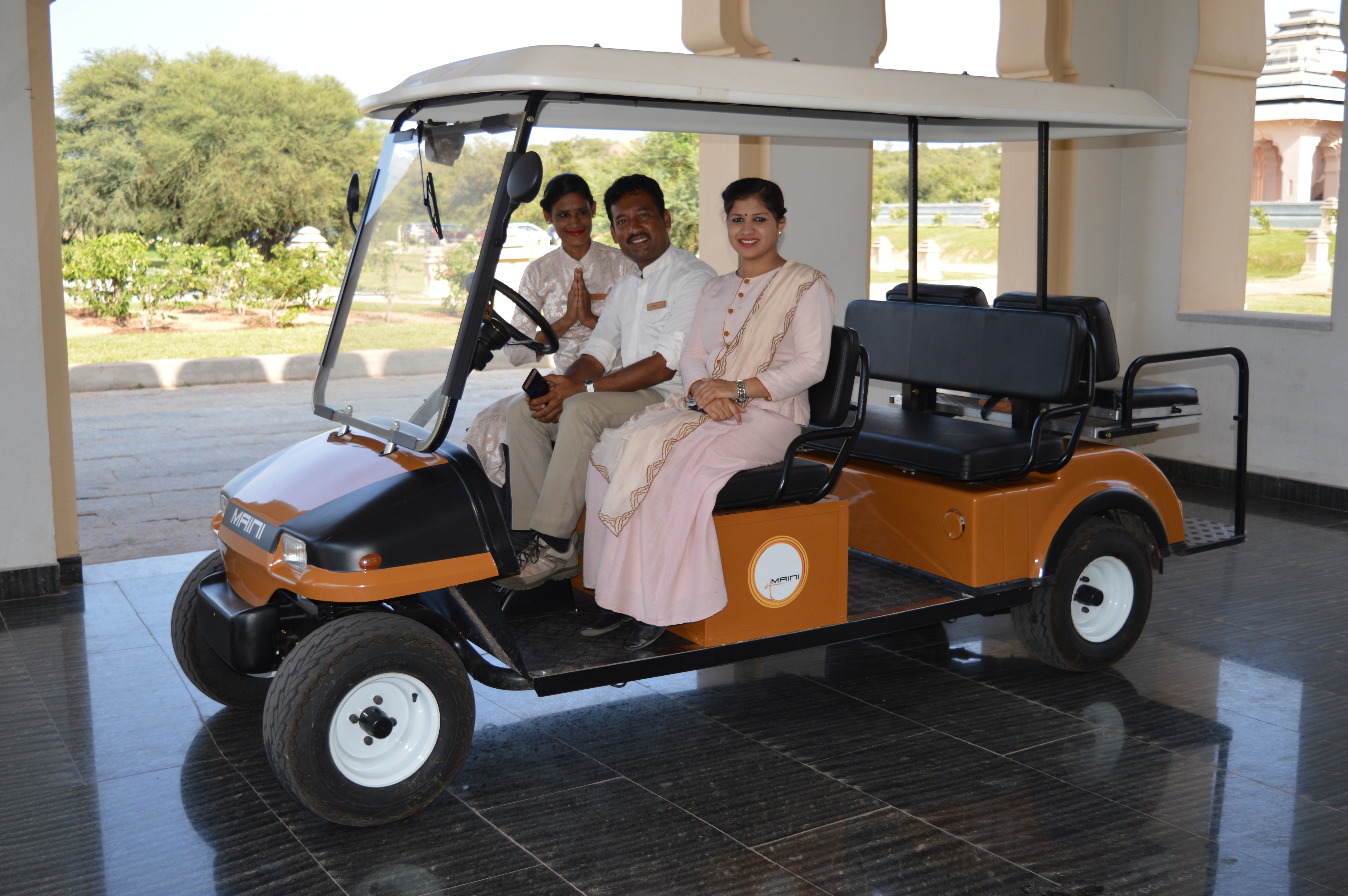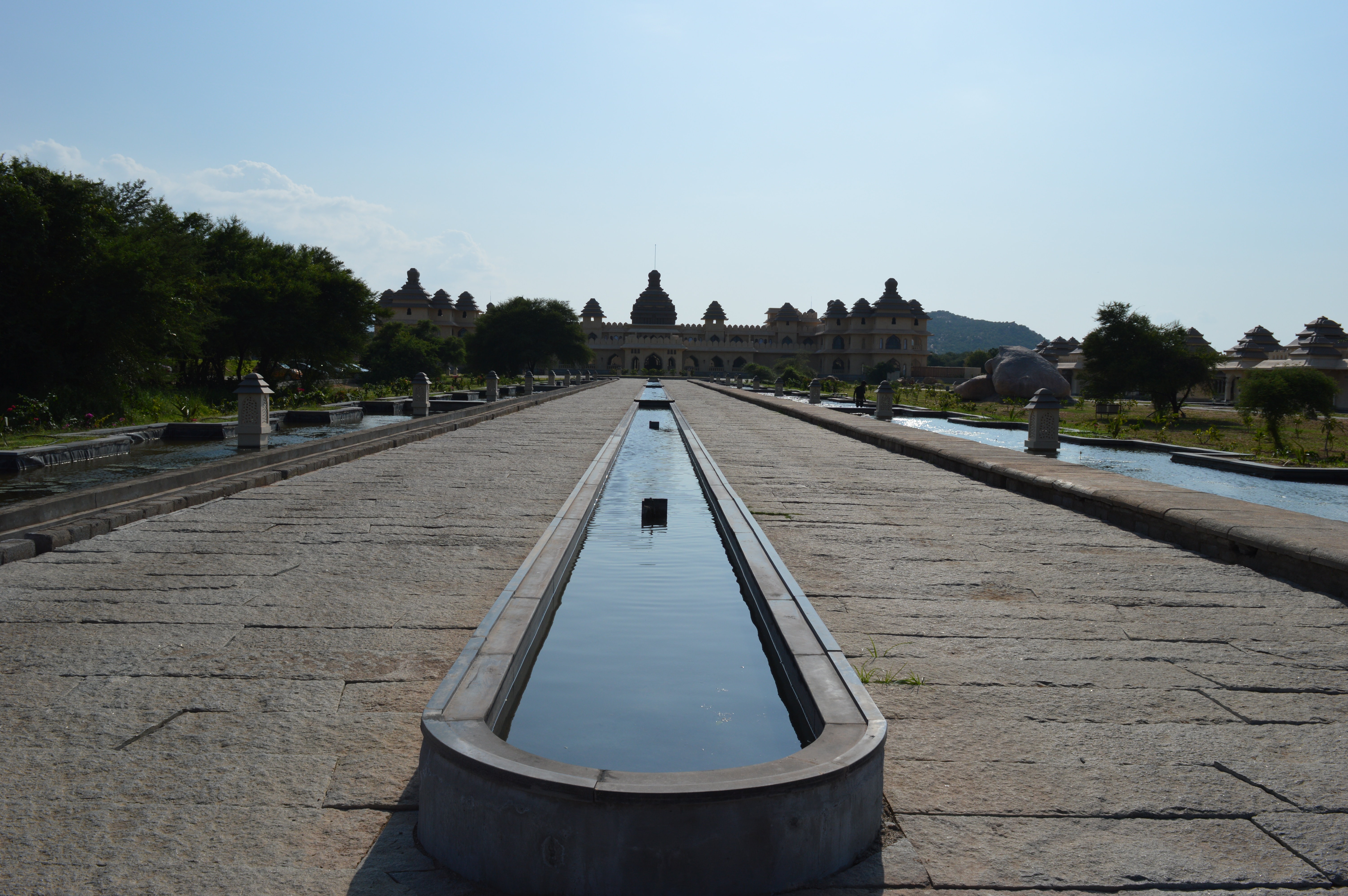 You go into the 'Vaidyasala' or The Lotus Mahal, the building which houses a lounge, spa and a specialty restaurant, which is also a separate structure in keeping with the design concept. It is inspired by its namesake the Lotus Mahal of Hampi. You see the water body, all across, sprawled over a Burma Teak massage bed, to later step into a traditional wooden contraption, used very innovatively to give steam. You sit in the wooden box with your head sticking out while the steam inside is created with a pressure cooker!! All this while you look at the natural surroundings, green and rocky at the same time.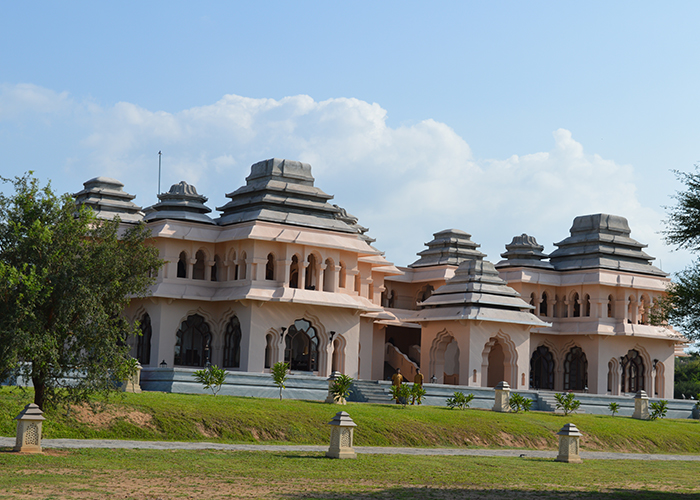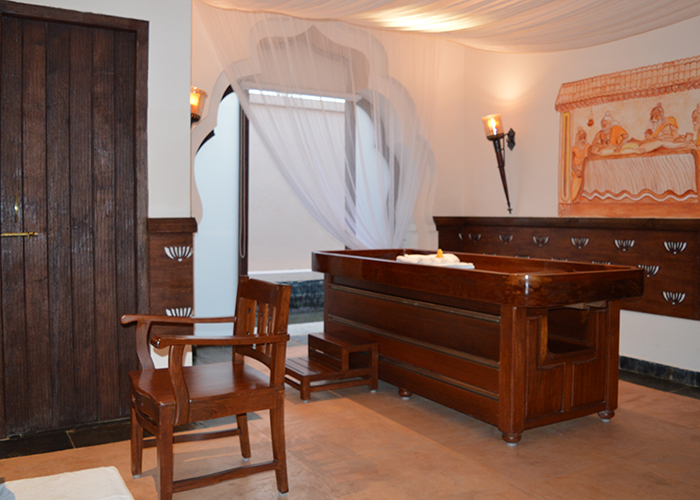 There are very scarce humans in sight, as this area around the resort is touted to become an animal sanctuary.  The view is all so calming that the pressure of getting to Bengaluru, the subsequent nearly 6 hour drive, and all that floats away.  No wonder most of those staying here are repeats, and average length of stay is 3-4 nights at least.
Jal Mahal has one  very large bedroom, about 45 sq meters, with the cream and dark  tiled floors that go throughout the villa, as do the cream walls with Teak, wood doors, pull-across shutters and cornices.
The Bathroom looks out to the deck, and into very-private walled garden areas. Tubs are freestanding, with outdoor shower areas and natural shampoos and soaps.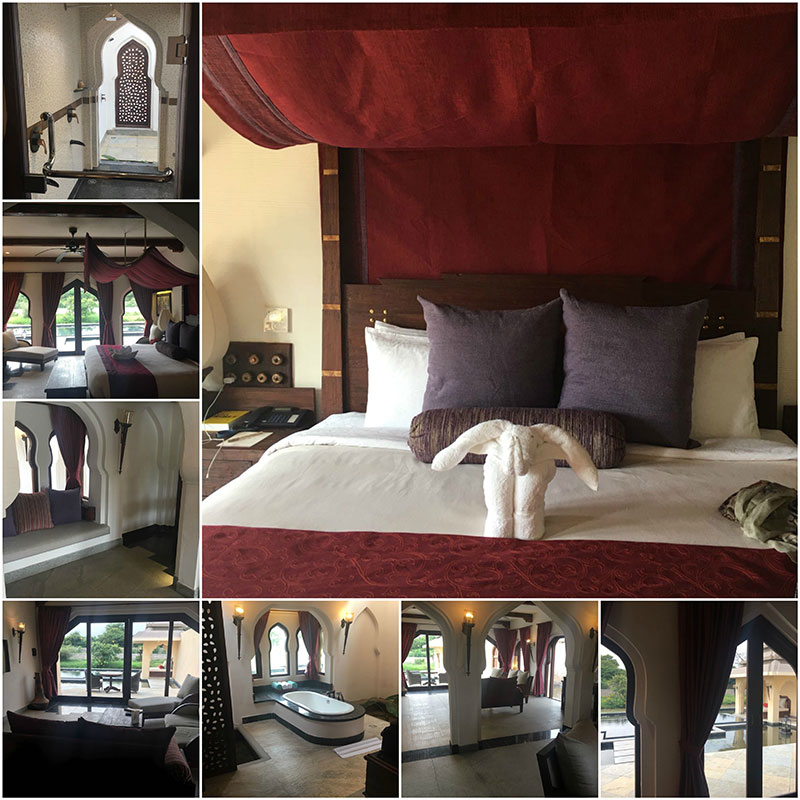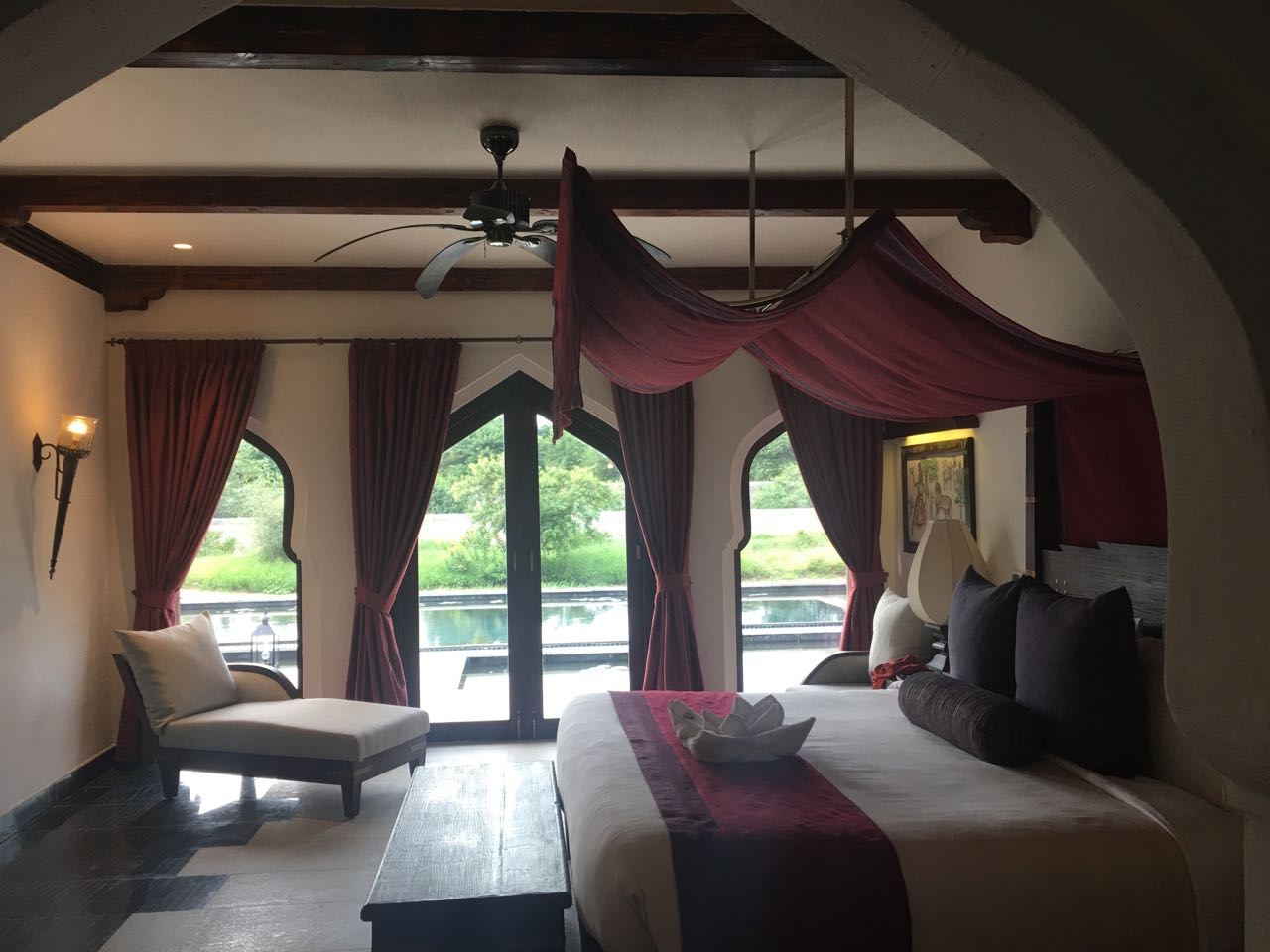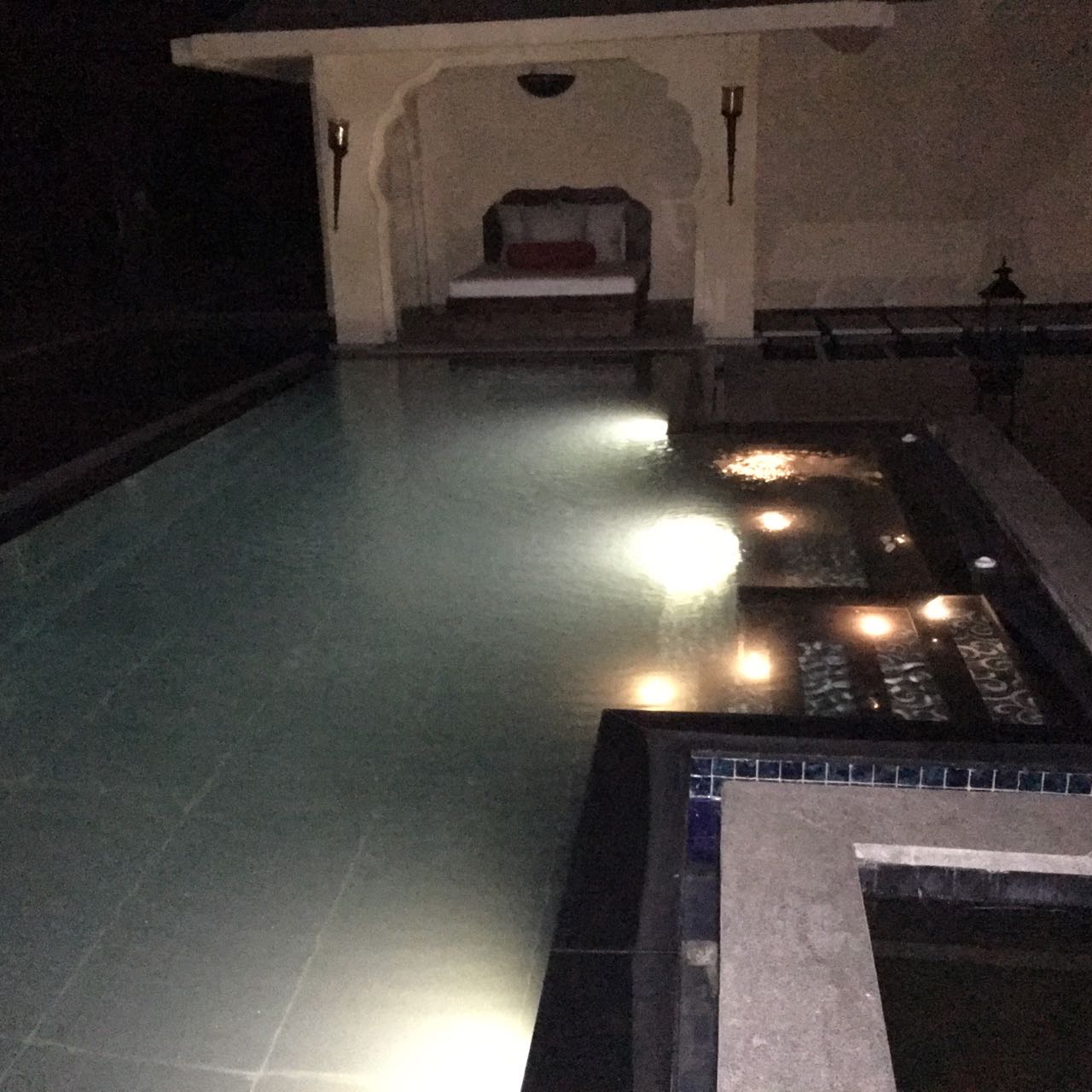 The Orange County Resorts, Hampi finds many of its 9 Villas and 37 rooms taken by the who's who of the world and country.  They, like everyone else, love having their private time to enjoy the luxuries and quiet time that is offered aplenty here. At the Tulva restaurant they might lunch off traditional Vijayanagara cuisine, at the Bahmani speciality restaurant they would head for Nawabi cuisine, with a grill.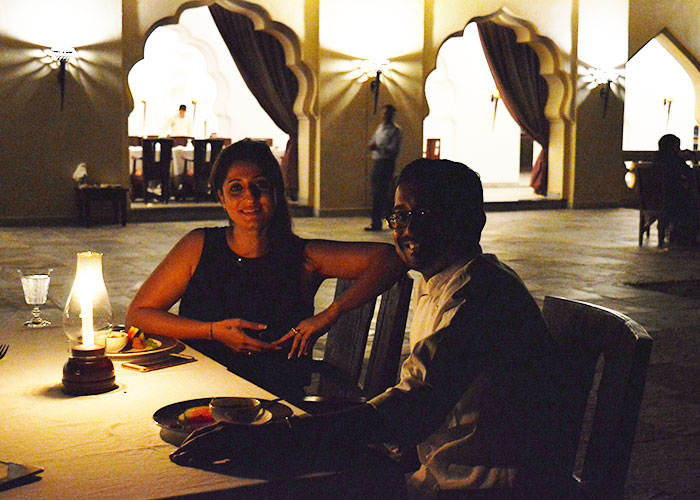 If you are not sight seeing, or islanding by boat, you could simply lie by the resort's main pool, or swim, or play 'chaupad', or 'saanp seedi', or go into town, or bicycle to the nearby Achyutaraya Temple, to see the Vitthala Temple with the stunning monolithic Nandi Bull.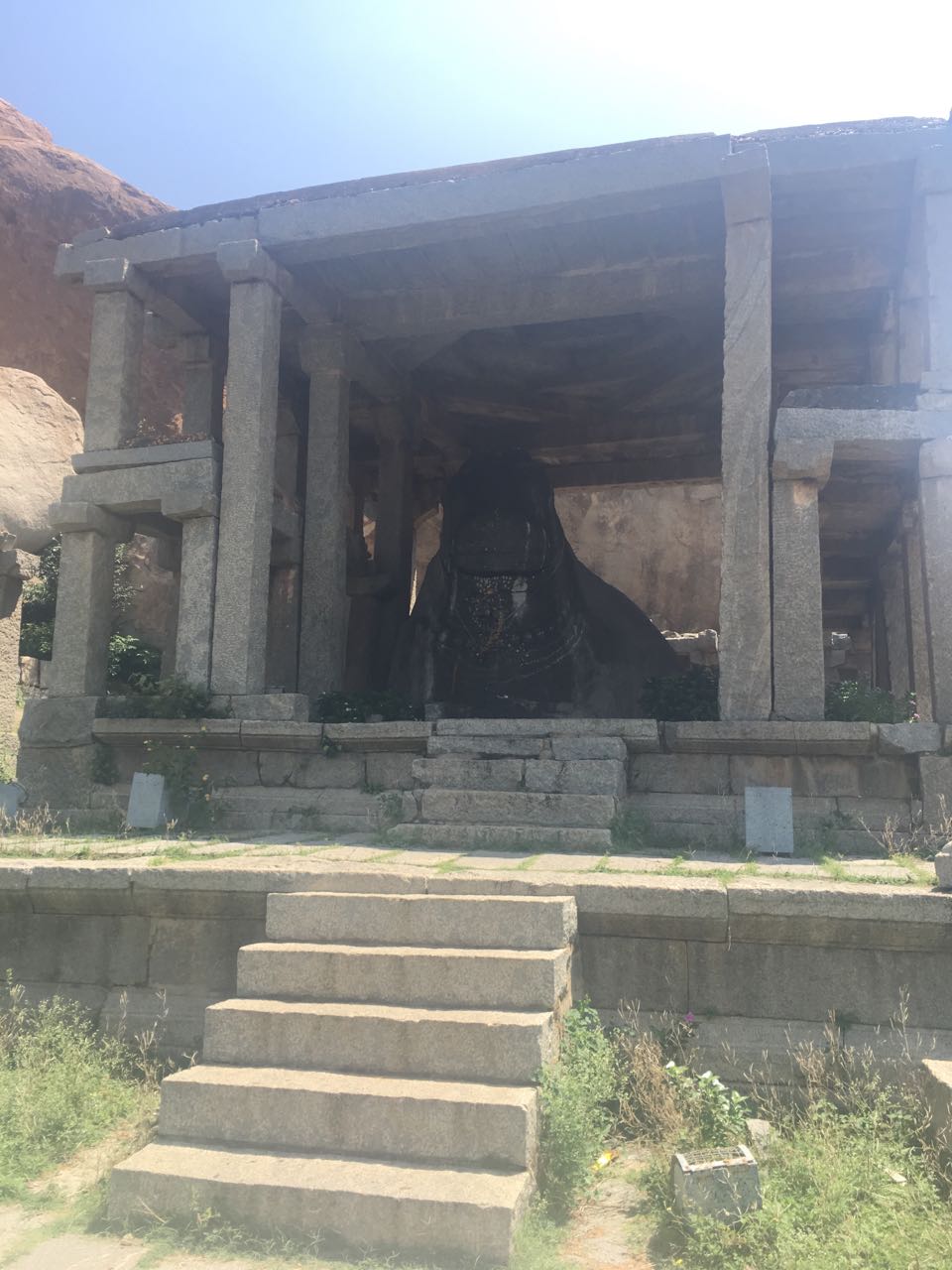 More Of The Authentic Vijayanagara Cuisine
Time for dessert, and chef Sanjay Bhowmik brings out three.There is a Sunnundallu Laddu made from roasted urad dal & jaggery. there is Shenga Obbattu – stuffed sweet flat pancake made of peanuts & jaggery.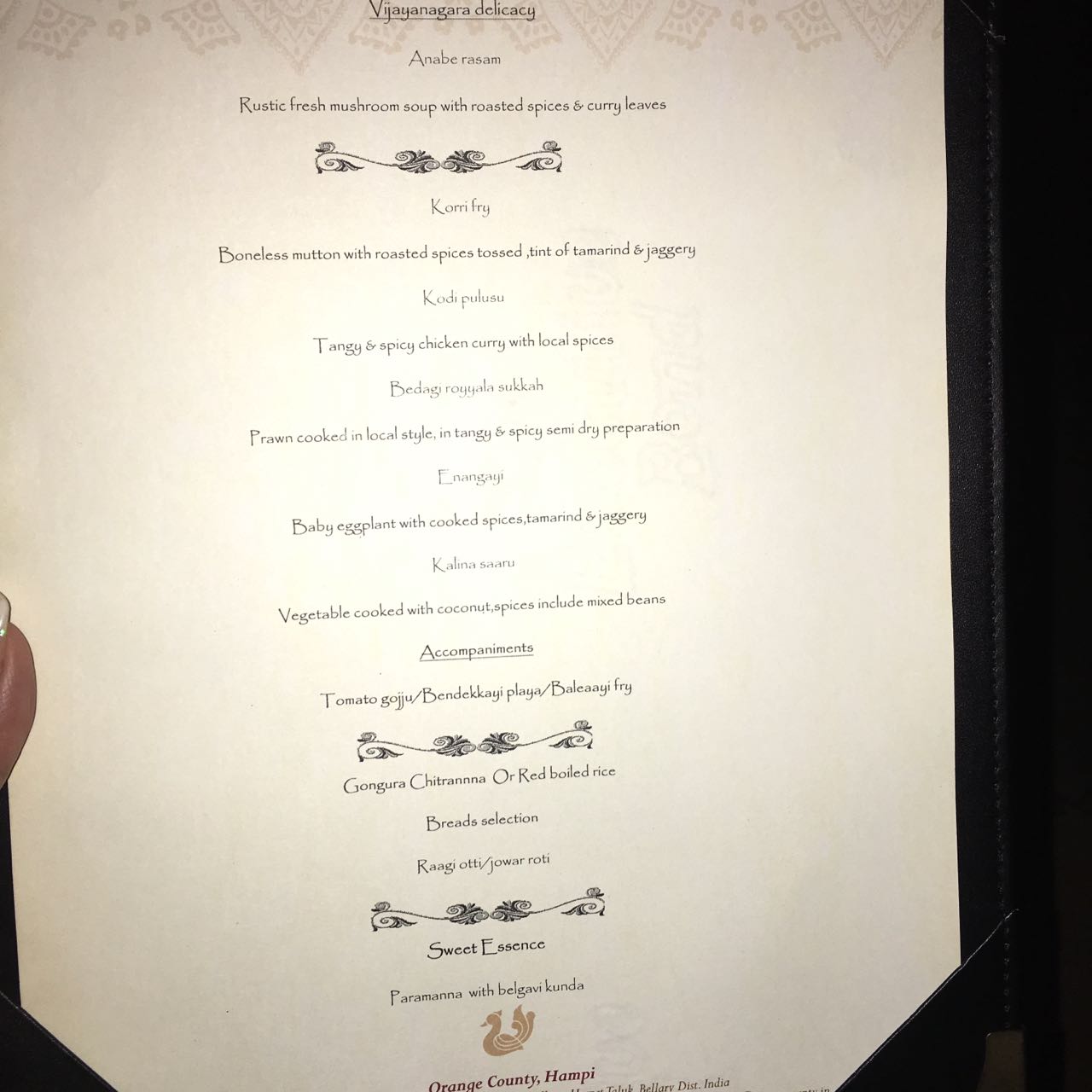 And Hesara Belepaayasa – milk & jaggery based porridge made from moong beans new takes, chef, and lots of fun. everyone has mindful fun here.
Jose Ramapuram is one of life's great raconteurs and i had the privilege of listening, he shared stories, and plans. They are also doing bespoke residences. This one will be called the stone lodges, and it will be run by the Ramapurams. Earthitects, the design house of Orange County Resorts, in partnership with orange county's renowned hospitality and maintenance services, will bring to you a cluster of serviced private residences in Wayanad , Kerela.
The Stone Lodges are located at Kalpetta, a quaint hill town in Wayanad, in the lush evergreen forests of the Western Ghats of Kerala, God's Own Country. Wayanad, known for its pristine atmosphere and year-round great climate, is part of the UNESCO World Network of Biosphere Reserves.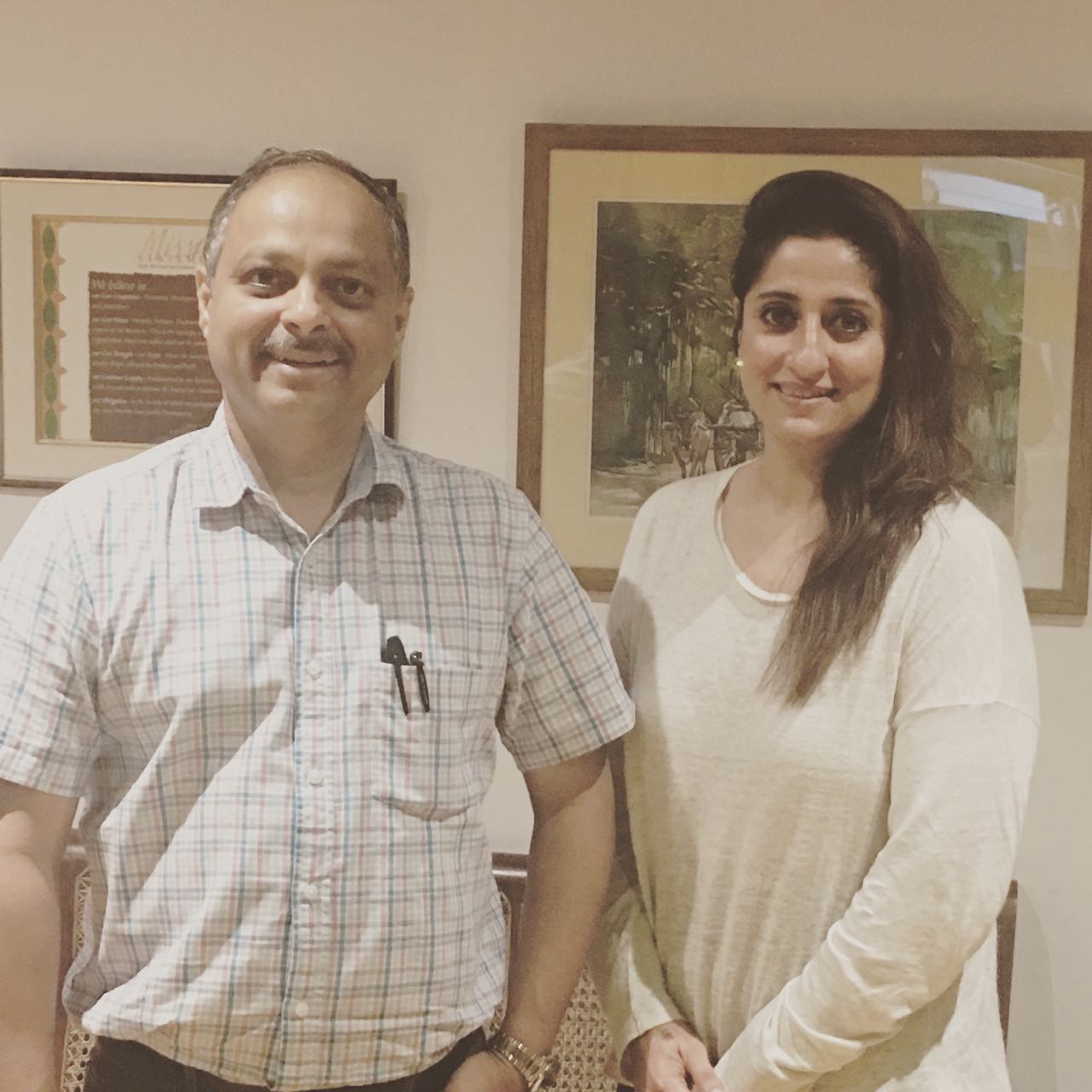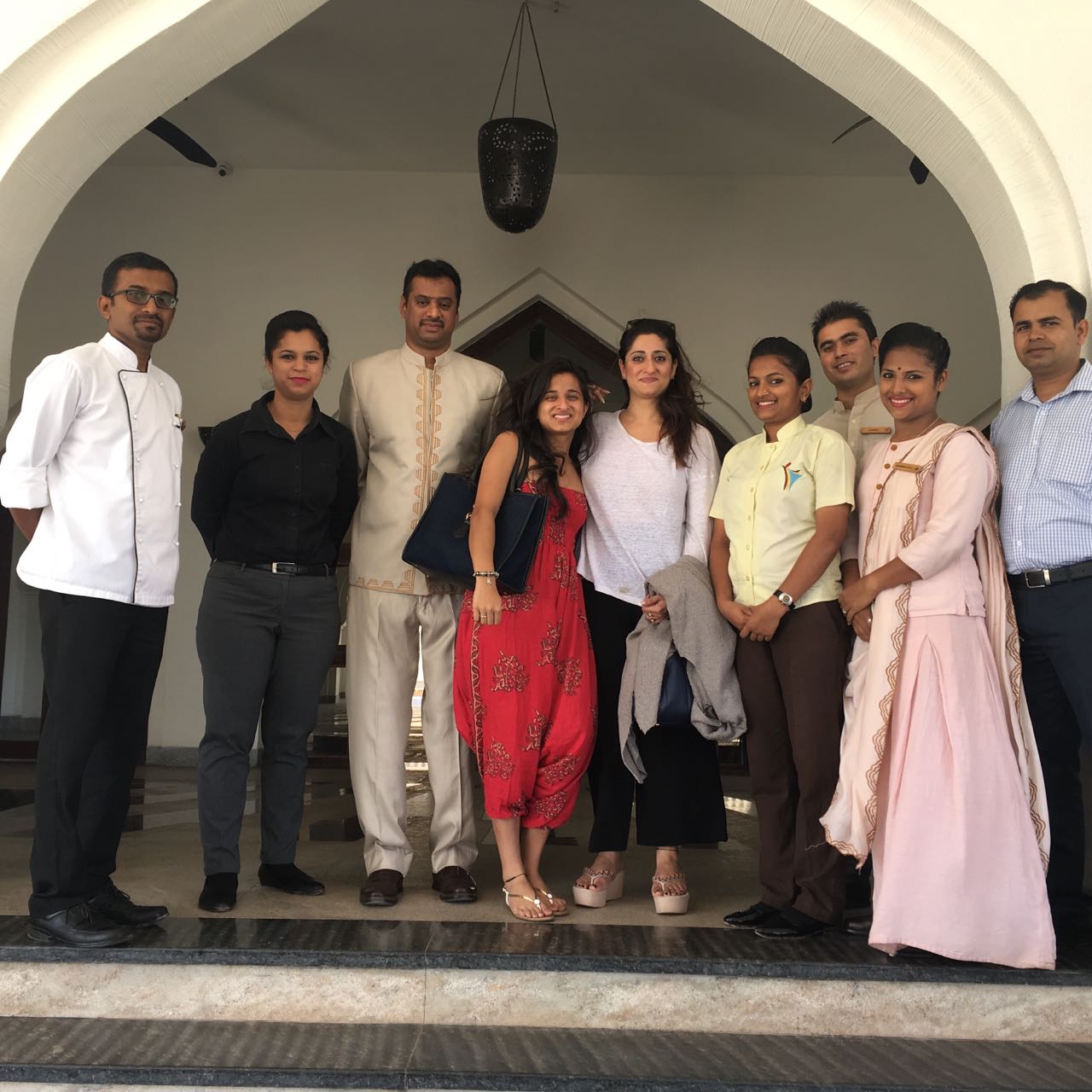 A Rich Heritage in Fine Food and Hospitality
That said, the meal was a delight, and since it was half dark, the visual effect was minimal compared to the taste, and the conversation.  There is an eight-course tasting menu, with traditional accompaniments like Tomato Gojju – Gojju is a sour, spicy and sweet curry best had with steamed rice, Bendekayi Playa – sort of a ladies finger curry etc.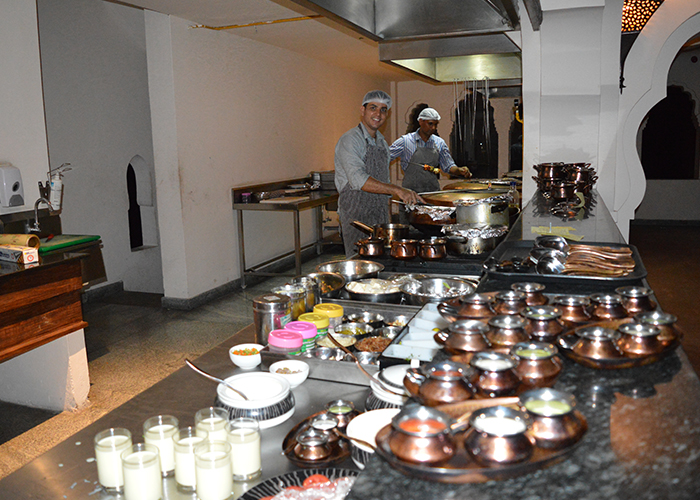 The table was already set with divine glass plates, modeled on the stone used across the resort and condiments of sweet mango, yoghurt and rose water, yellow curry leaf, chick pea etc.
My starter was divine, Anabe Rasam – rustic fresh mushroom soup with roasted spices and curry leaves. Then even more heavenly, the Korri Fry – Tossed Boneless Mutton with roasted spices, with a hint of tamarind and jaggery.  I went on to the vegetables, Enangayi – Baby eggplant with cooked spices, tamarind and jaggery and Kalina Saaru – Vegetables cooked with coconut and spices.
I had a side order of Ragi Roti, Jowar roti and Gongura Chitranna – Lemon rice with red sorrel leaves and Red rice.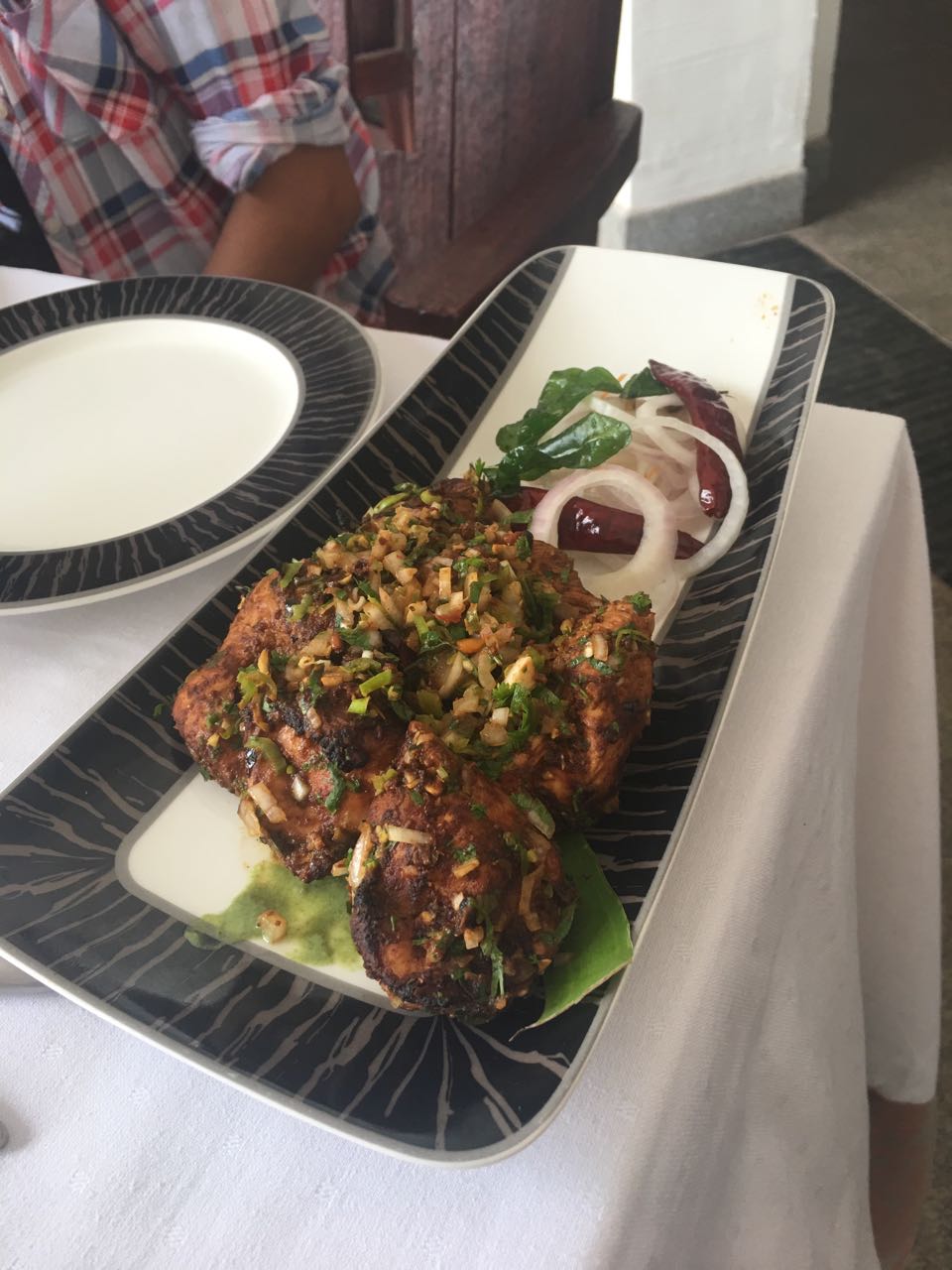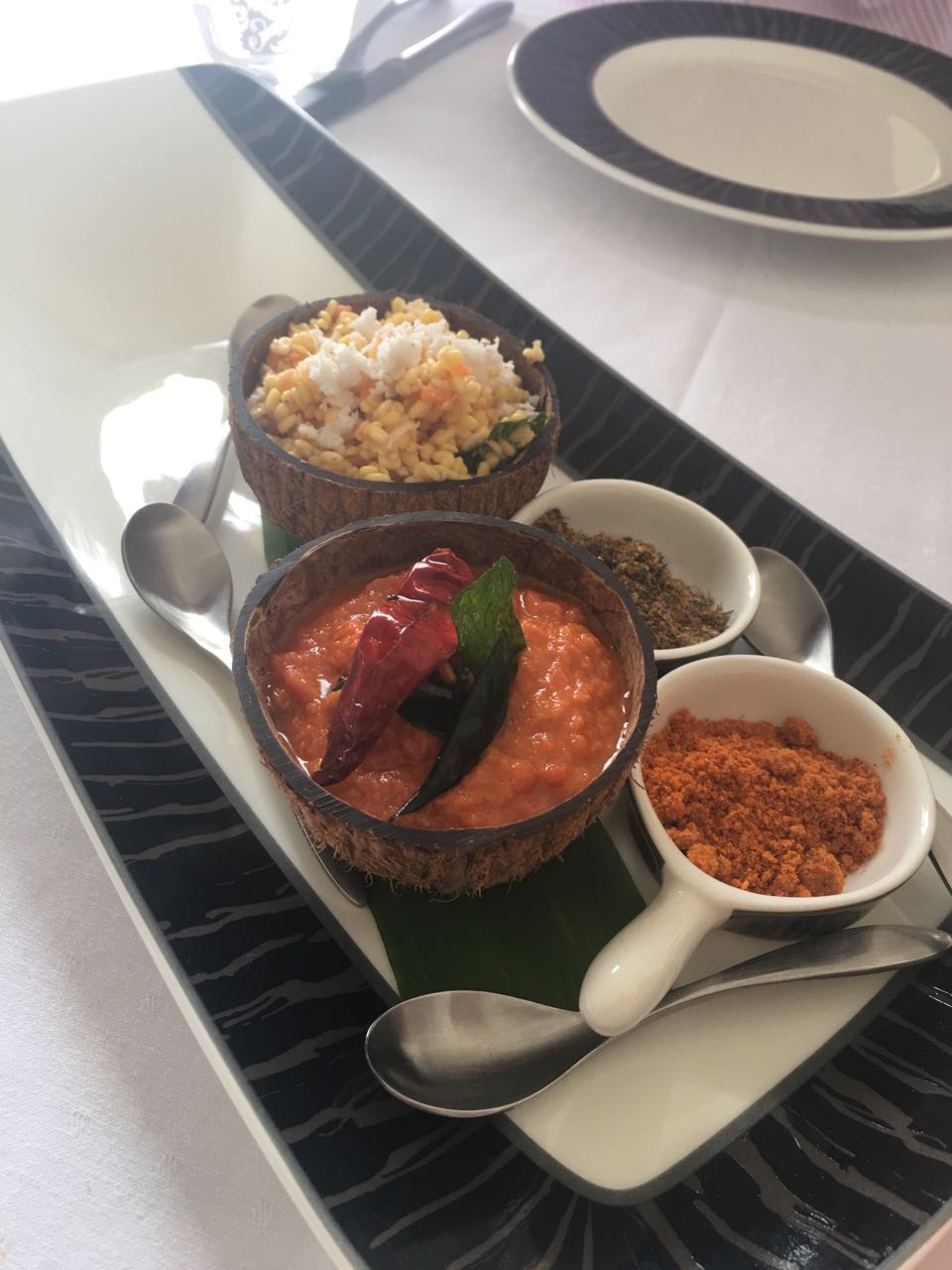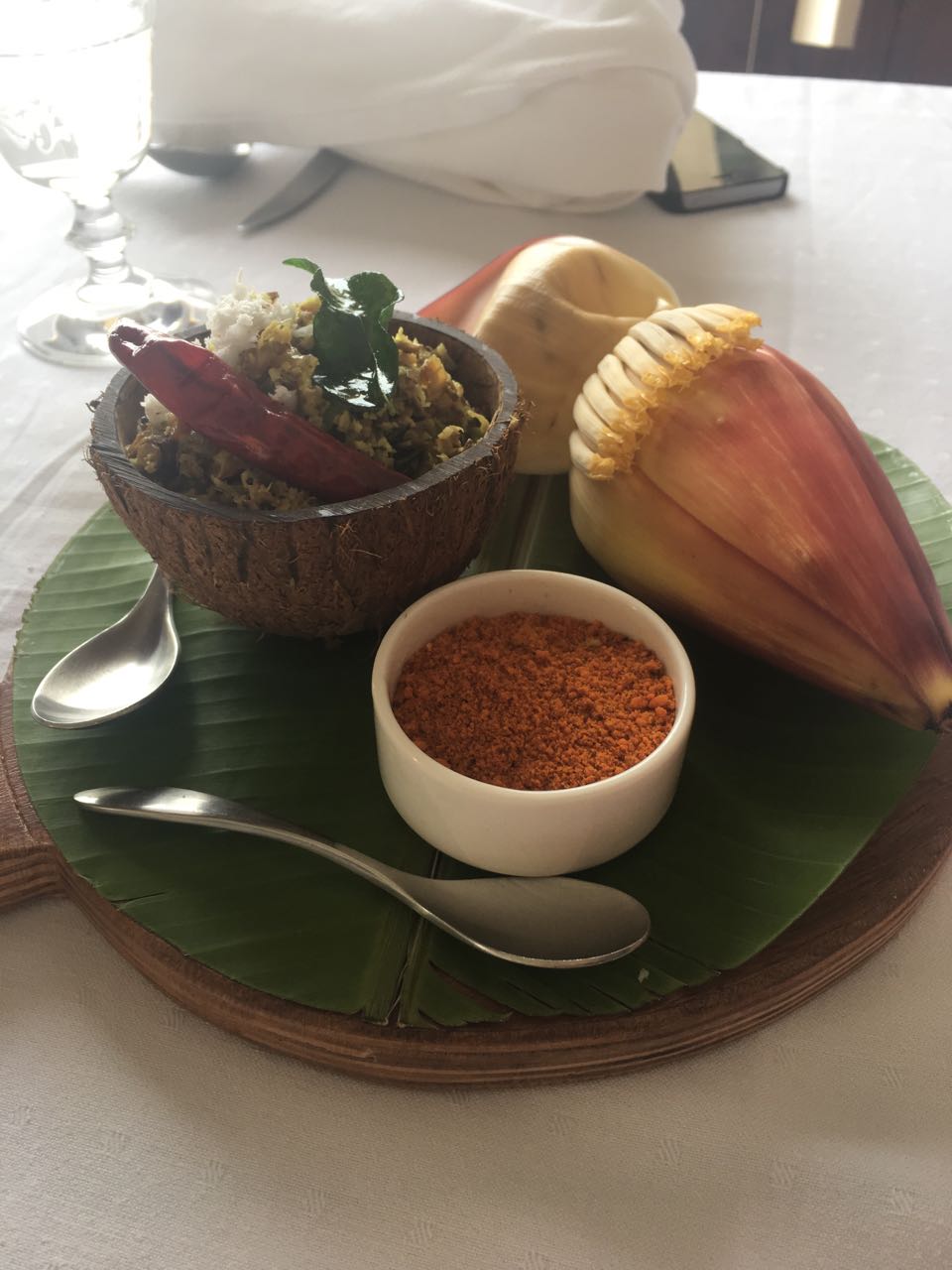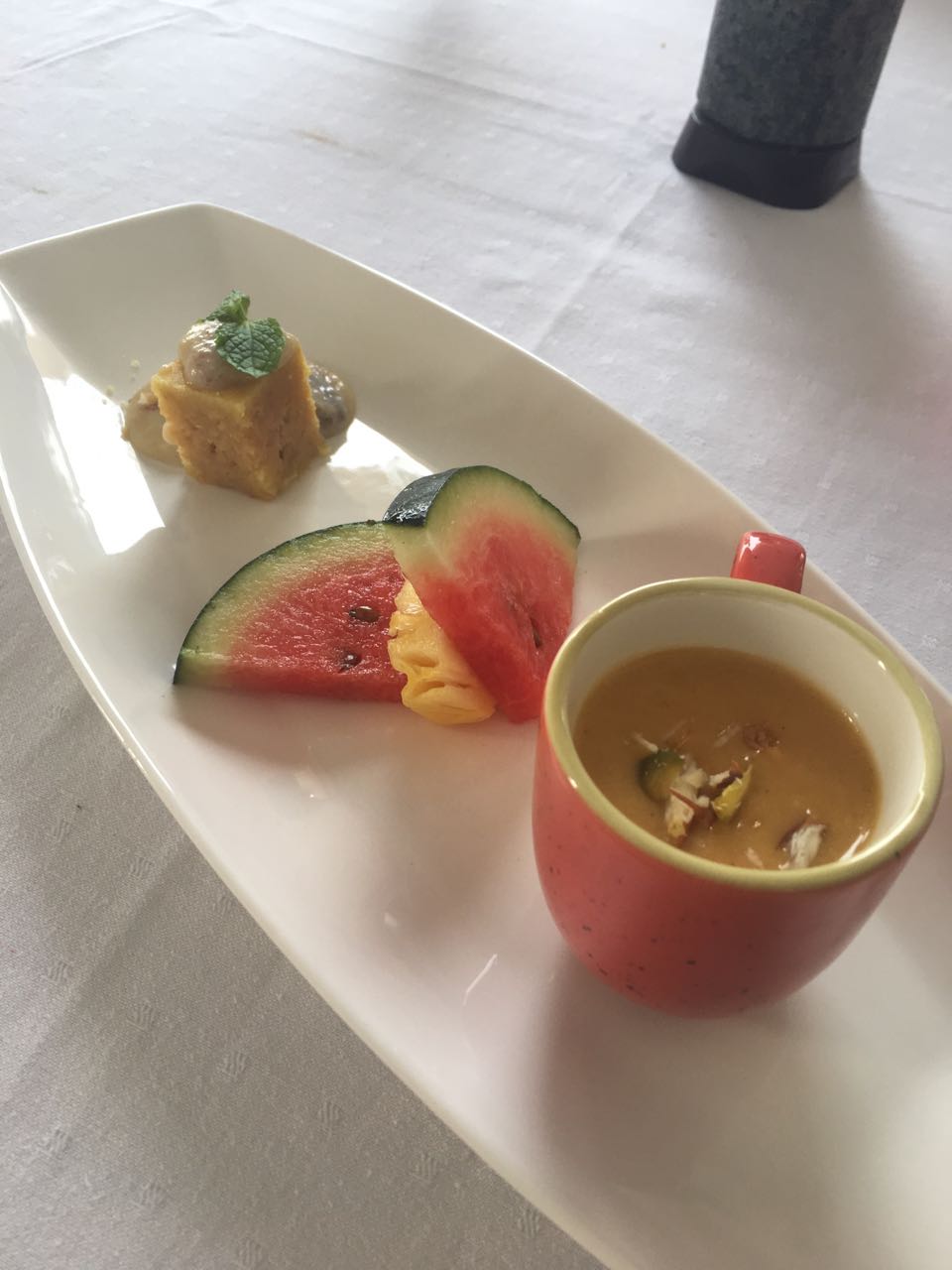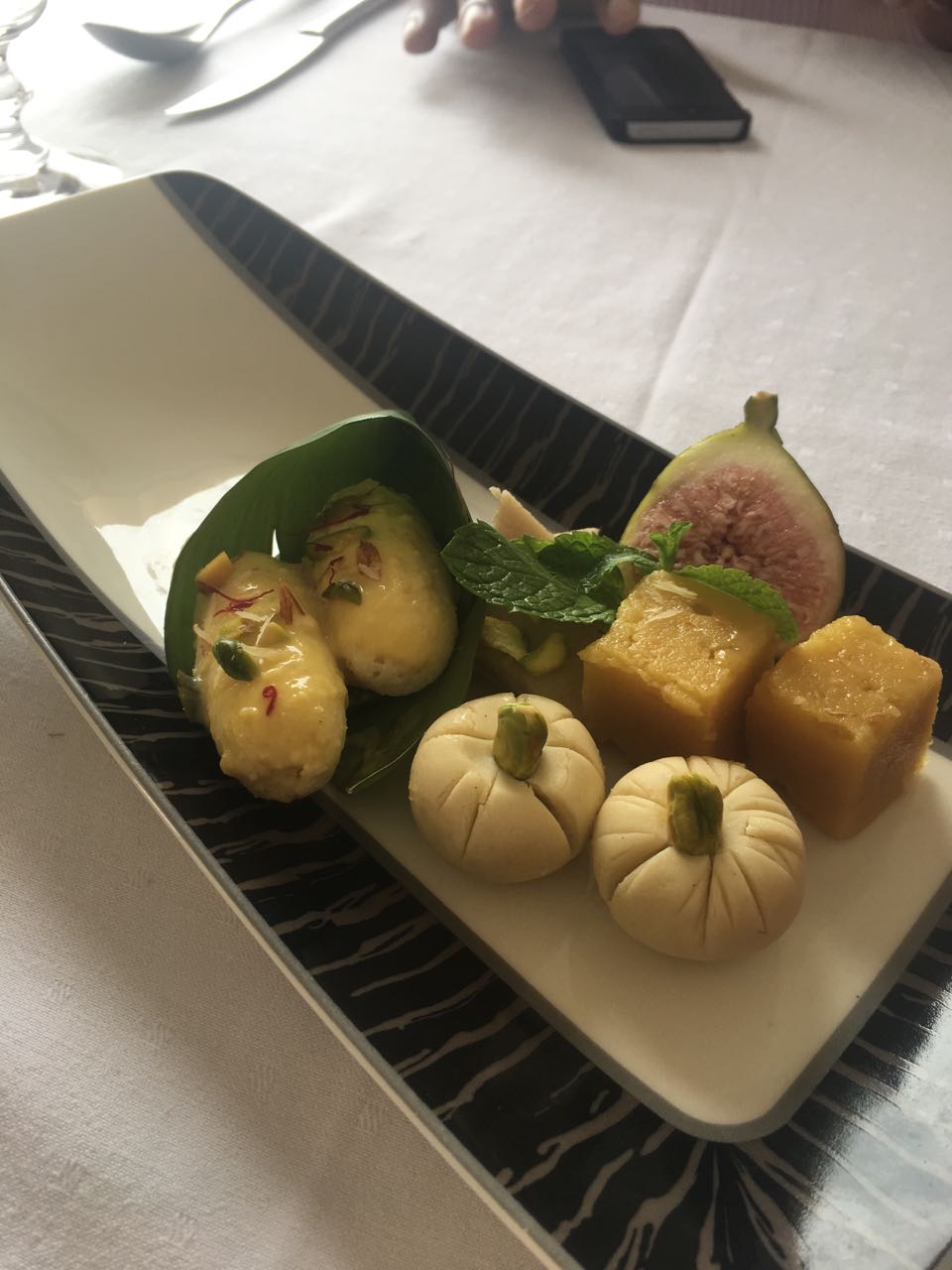 "Give me the luxuries of life and I will willingly do without the necessities" ~ Frank Lloyd Wright