About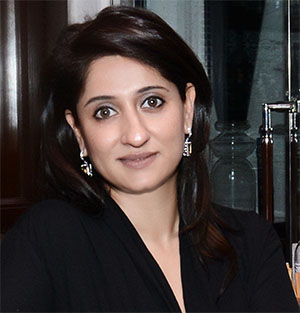 Rinku Madan, an acclaimed Gourmand in India, recently completed her studies in Global Journalism at the Harvard University, Massachusetts (Grade A Honors) with the objective to pursue her writing skills in the area of Global Luxury. She had earlier studied at the French Culinary Institute in New York (an affiliate of Culinary Institute of America) to certify in the arena of Food Writing. Having worked with luminaries like Alan Richman (James Beard Foundation Award for Culinary Writing in Manhattan, New York) and Andrew Fischer (Wine Expert at Astor Center), she is amongst the very few certified food writers in India with global experience in the subject. She has also recently studied 'Sparkling wine making' with one of India's leading Winery.
Her penchant for understanding food and other finer aspects of life commenced more than a decade ago, as the Chef at The Chambers, Taj Mansingh Hotel, New Delhi (Members Only Club at the Taj Group of Hotels, India). This was followed by her stint as the Editor of 'Times Nightlife Guide', which she published for the Times of India Group, India's numero uno media house. Times Nightlife Guide till today, is the most sought after, comprehensive and respected food guide in India and 'Times Food Awards' are considered as the highest benchmark of achievement and success for any and every restaurant in India. She further honed her journalism skills' through weekly columns at The Economic Times and The Sunday Times, also leading business and general dailies in the Times Group fold and the BBC Good Food Guide. She was also a producer at the CNN International Bureau, New Delhi for a brief period.
Her love for food and related culinary aspects was inter-spersed with consulting for Luxury establishments like the CGHearth group etc, to train their chefs in seasonal menus and fusion food.

Her experience of writing feature articles in food, restaurants, cuisines, luxury properties, lifestyle products etc coupled with her interactions with the very "Elite" in India provided her the push to enhance her skills and pursue "Luxury" as a focus area, not only as a writer but also a Food Stylist and Consultant in the field of Food and Beverage.

Rinku is born and brought up at New Delhi, India and completed her graduation with Honours in English at the University of Delhi. She enjoys swimming, running regularly and Yoga (including Bikram Yoga) and her soft, affable and jovial nature makes her presence felt at any occasion.