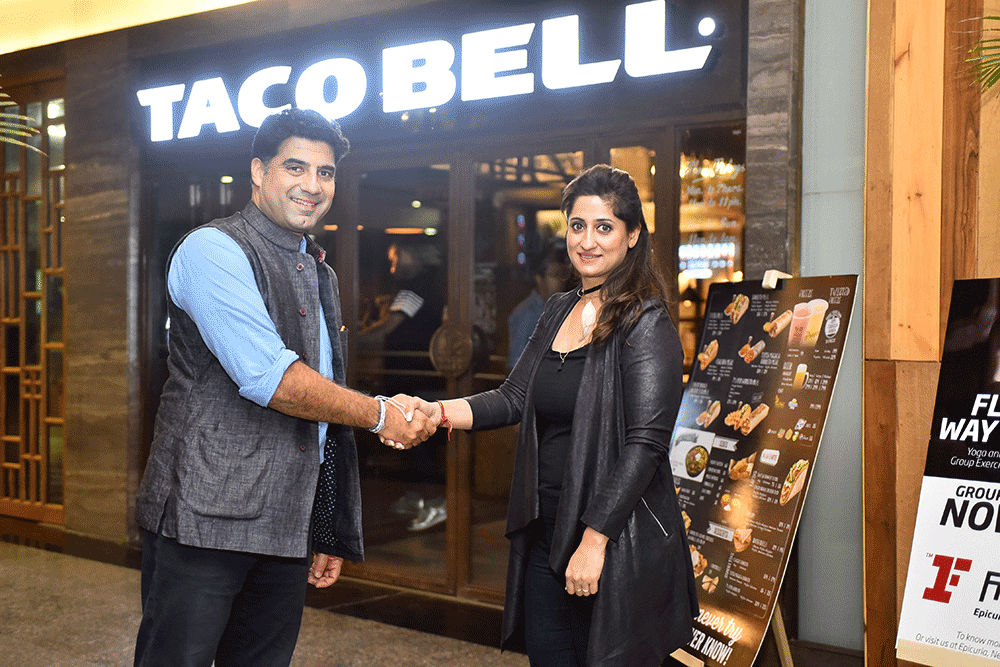 If I knew where to find that upside down exclamation point on this keyboard, I'd be using it a lot right now.
It's not exactly a restaurant, not a Qsr, just the trappings of a good diner, great food, great drinks and ambience. There's no secret basement tequila dungeon, nor is there a VW bus parked inside. There's no guy with a salsa cart, and i have yet to see anyone in their staff wear a lucha libre mask. This place is simply all of the usual suspects about Mexican food served in a lively restaurant with killer drinks.
So this is the first time a chain restaurant is being featured on Damnfinelife. The reason – Gaurav Burman, essentially the brainchild behind creating – Taco Bell Plus. Businessman / entrepreneur and Director at Burman Hospitality – Gaurav Burman, who decided to take over the sort of ailing Taco Bell India, in his own hands and reintroduce it in a nouvelle and new avatar as –Taco Bell Plus.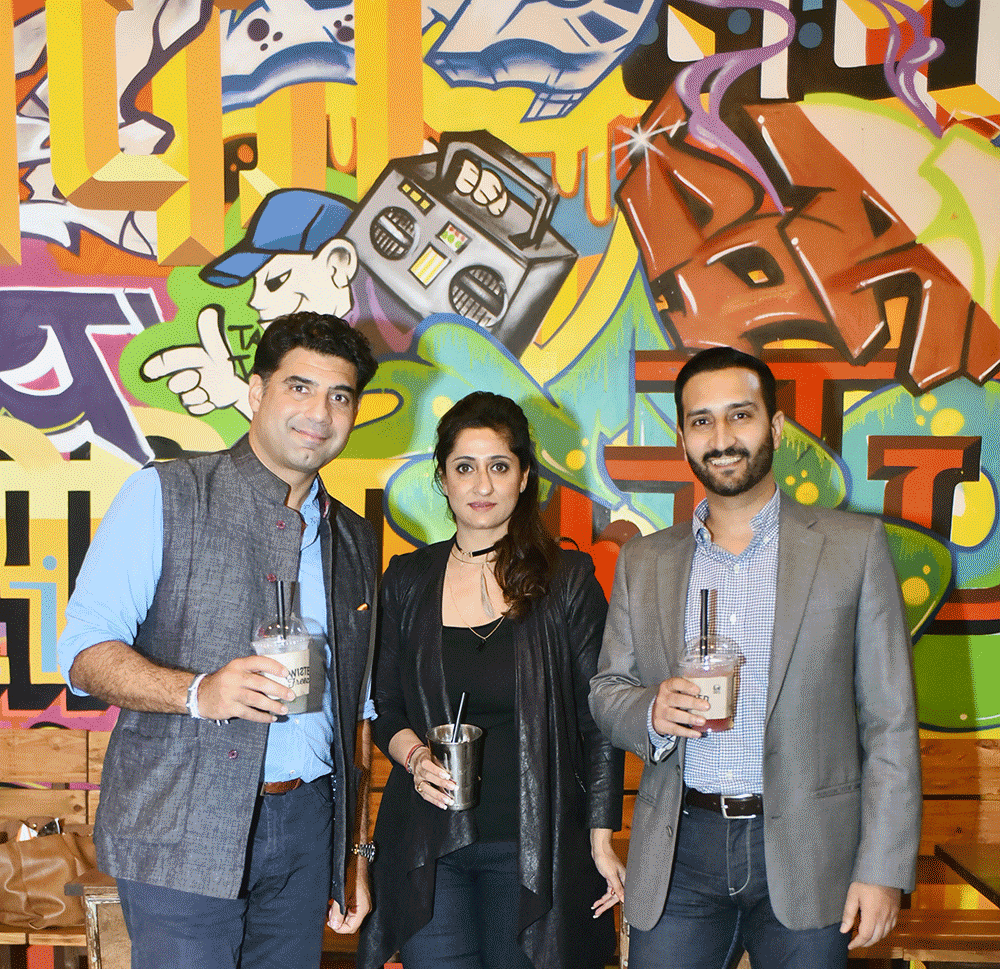 Ankush Tuli – Managing Director Taco Bell, India since 2015, with his years of experience and out of the box ideas kick started this unique growth, and has been crucial and successful in making Taco Bell Plus a dignified brand.
Taco Bell Plus is an upscale version of diner. It's a space run by a team of super dedicated people who truly care about their craft and their customers. It is under-the-radar, and yet the people who know, know. That's how it is. Well, now you know.
Taco Bell Plus, a first for the Taco Bell chain. A new restaurant from the folks behind Yum Foods.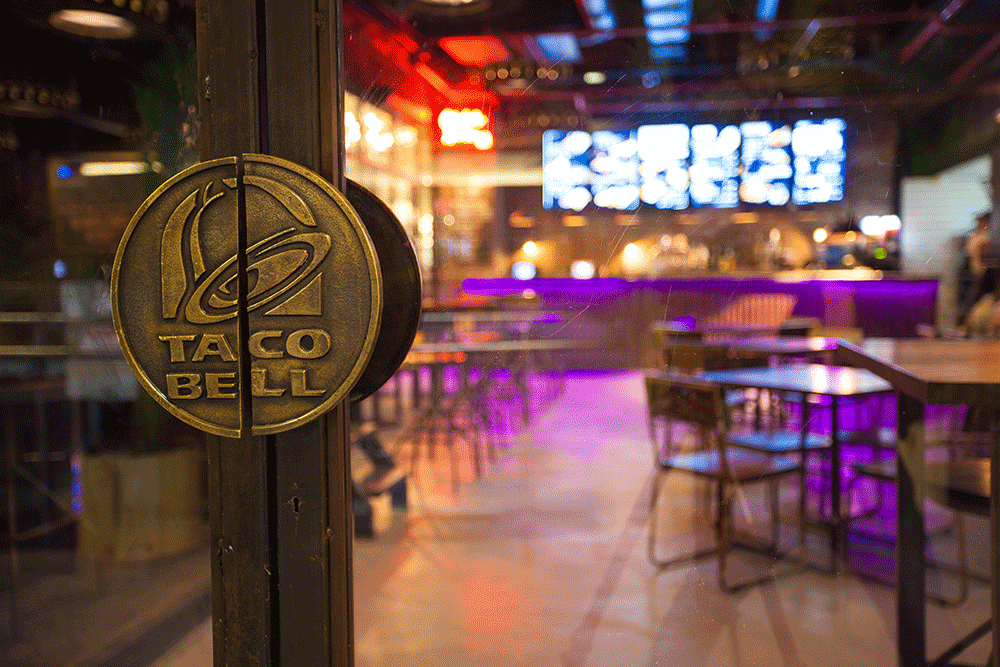 Taco Bell Plus recently opened its doors at the Epicuria, Nehru Place. And as I just said so , it is extremely enthusiastic, with it's graffiti wall and innovative cocktails. This is not another one of those trendy New Delhi Mexican joints that survives off feeding guacamole and mediocre tacos to people who think Patrón is good. This is a real place with a real chef who is doing really incredible things with his menu, and often those things are quite…interesting. Like the Naked Burrito. Or like serving the Chalupa, Crunchy on the outside, soft on the inside loaded with a filling of your choice, signature sauces, fresh lettuce & salsa.
Did you show up because you're craving a Taco? This one has crispy chicken with Ghost Pepper in it. Hungry for an assorted platter? Your choices are Cheesy Nachos, Fajita Quesadilla and Crispy Chicken.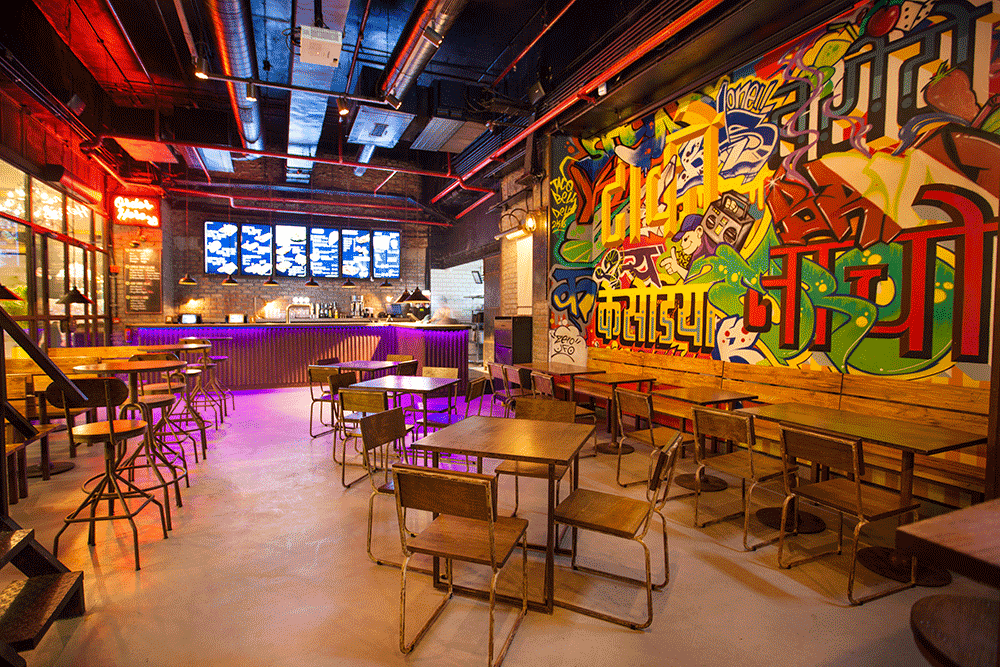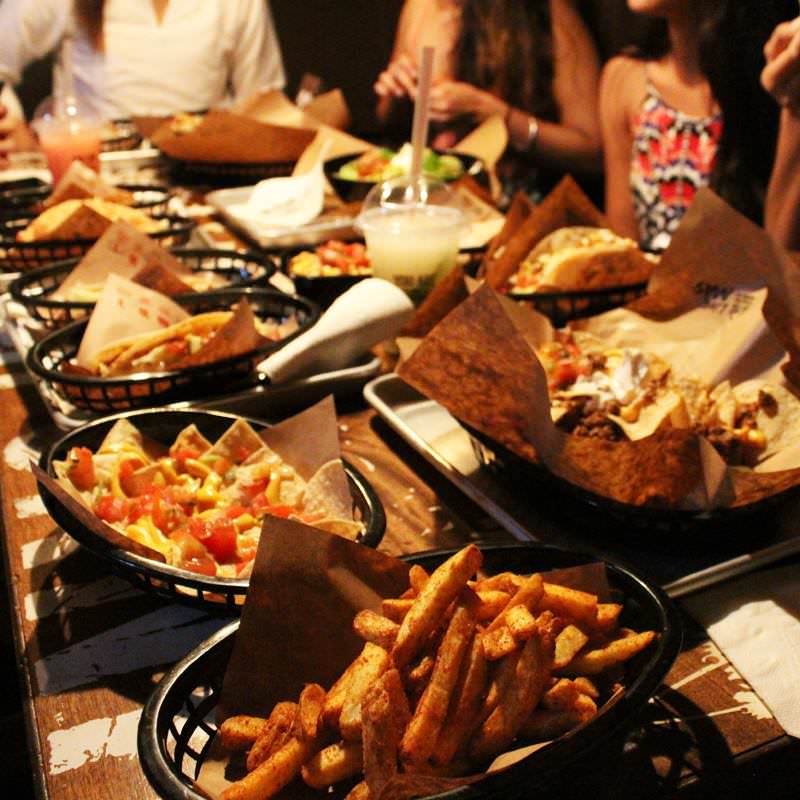 Need a good low commitment idea for a first date? Taco Bell Plus is your move. (And nab the booth seat situation in the corner.) How about a reasonably priced place to catch up with your friends over drinks and maybe a little dinner? Yes, Taco Bell Plus is good for that too. Out late, and need a nightcap and some tacos? They serve a great menu till 11:00 pm.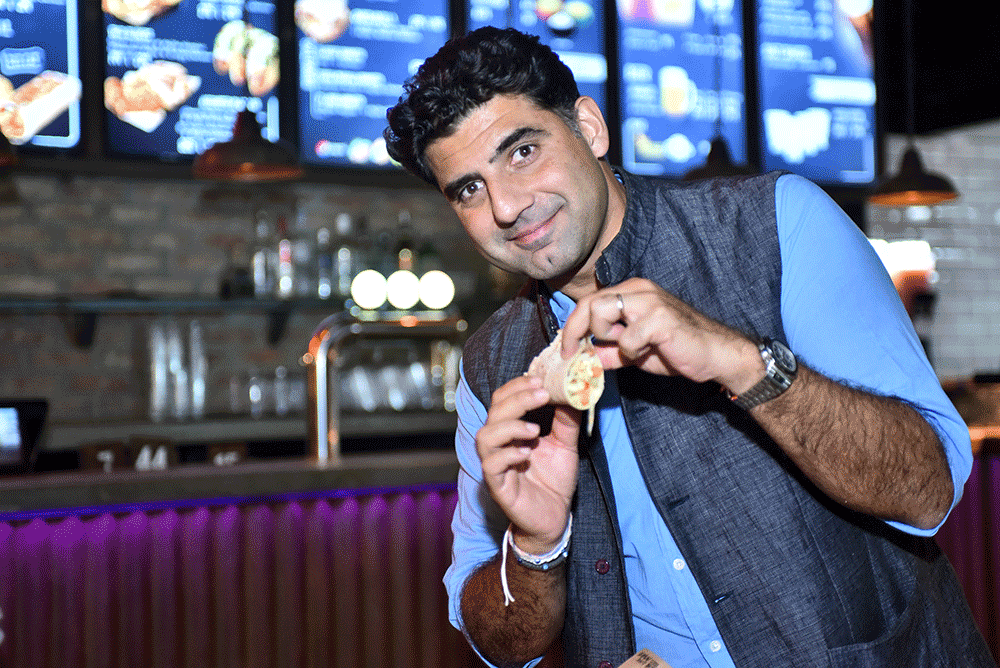 For those of you who know your Mexican food well enough to understand the nuances, here's how Taco Bell Plus gets down. The menu is full of street food type fare – tacos, nacho's, chalupa's, etc. – and you will also find some of the real native staples like burrito's and fajita's. Everything is super fresh and not so rich (no over smothered enchiladas here), and there's authenticity present in all of it. I loved Taco Bell's signature,Soft Taco with crispy chicken Ghost Pepper, Loaded Nachos with Guacamole, Sour cream , Mexican chicken ,everything from the shareable's section of the menu, and the plate of Classic Burrito  that's served with a side of home made tortillas. As mentioned previously, the drinks are incredible too, and the restaurant has an overhead deck sort of a place, that also serves as a Dj console that stands directly over the entrance. The only downside? Waits can be north of an hour during prime time, and even though there are a lot of other options in the area, this sort of delicious comfort food won't let you go away. You're going to have to cram yourself into the bar and have a few (a lot) of drinks while you wait it out.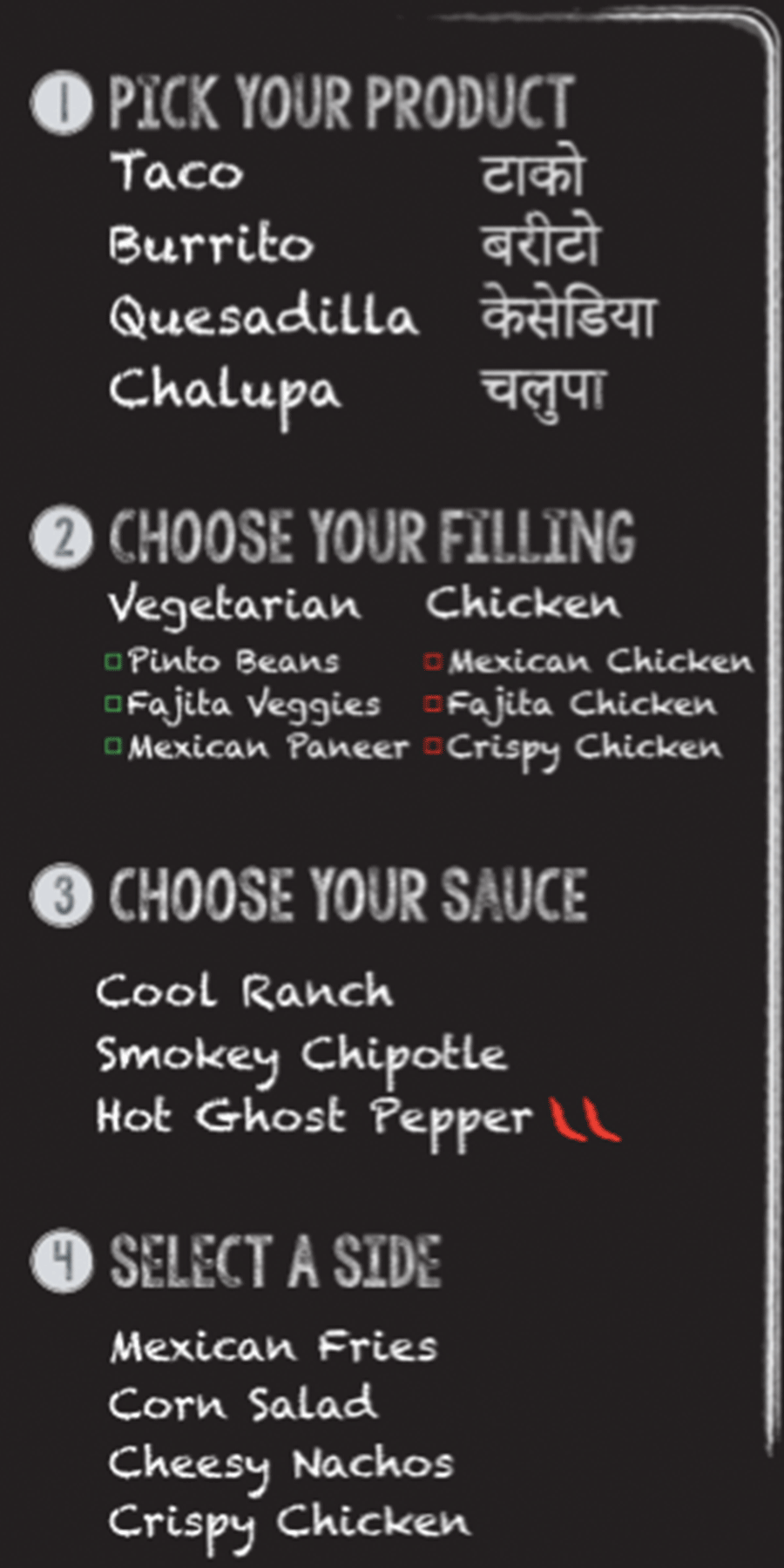 Ultimately, the most impressive part of Taco Bell Plus isn't that the food is unfamiliar, it's just that the food is so damn well brought-up. I'm happy to say that this place has immediately become one of my favorite Mexican restaurants in Delhi, not only for what comes out of the kitchen, but for the friendly staff, the weird but interesting interiors that sort of look like a comic book super hero's flop house, and the inventive and often boozy shakes. No matter where you sit or who ends up calling the shots, know that you need to eat everything from the appetizers to the salads to the entrees, and yes, even eat dessert. Or, as George Bernard Shaw might have put it, "There is no sincerer love than the love of food."
I don't often list drinks in the Food Rundown, but Taco Bell Plus has a few that are worth pointing out. What is really good are the vanilla ice cream based hard shakes available in 5 variants -JD Maple syrup Hard Shakes and the Vodka Kahlua Hard shakes.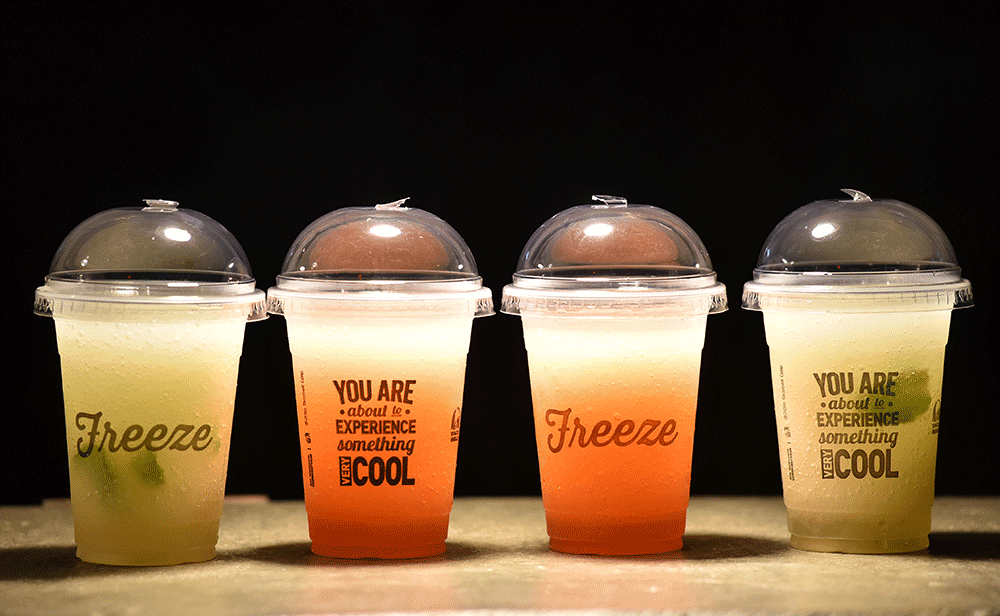 Taco Bell's take on frozen margaritas customizable with the choice of rum, vodka and tequila. Available in two refreshing flavours – Lime n Mint & Watermelon
These are infused masterpieces that are fresh and delicious.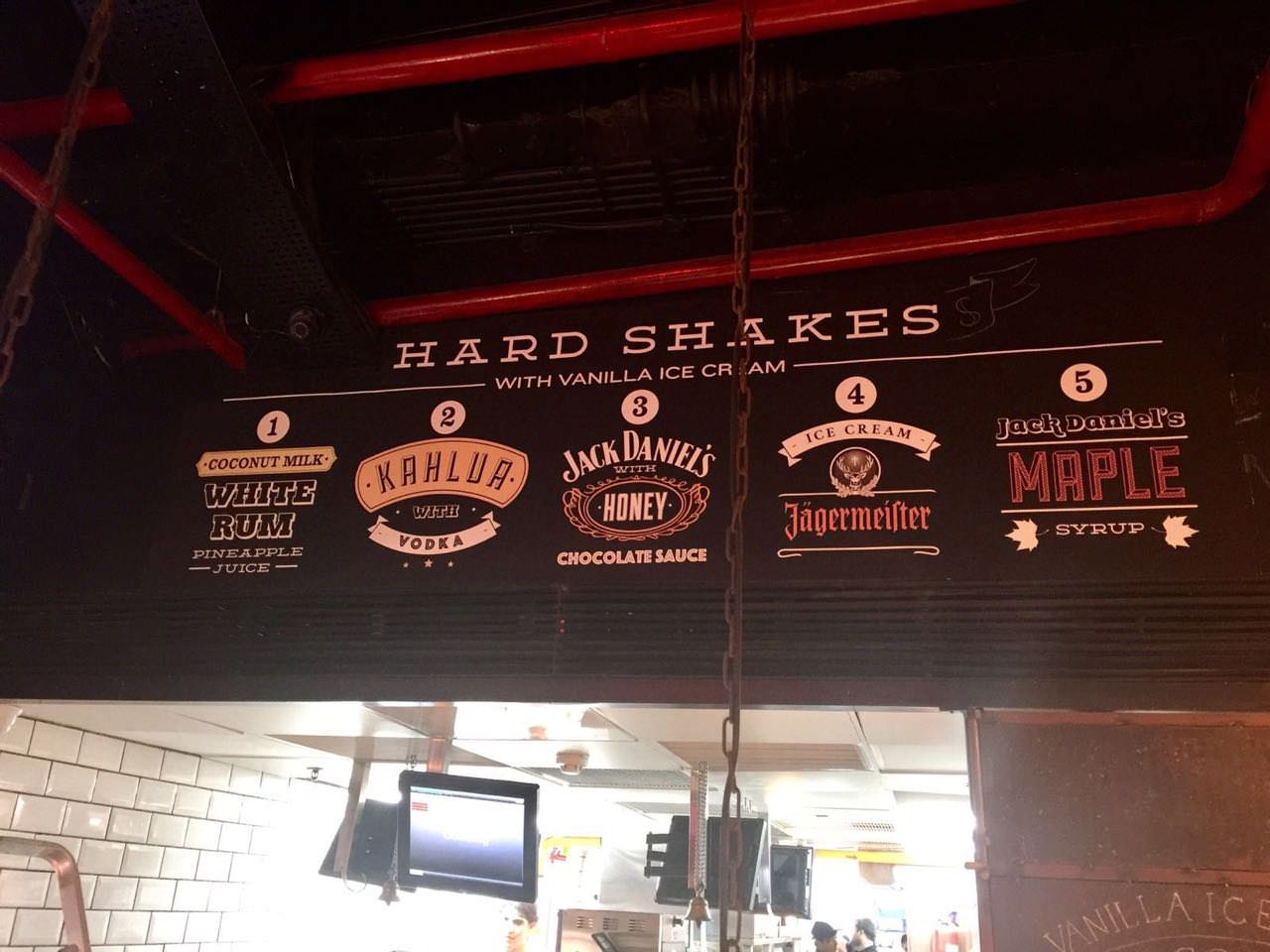 The Vodka Kahlua Hard Shake is basically a pint glass full of Vodka, Kahlua liquer, and Vanilla ice cream. I don't know how I didn't think of that in college, but it's incredible. Bottoms up.
Guacamole, Sour cream , Mexican chicken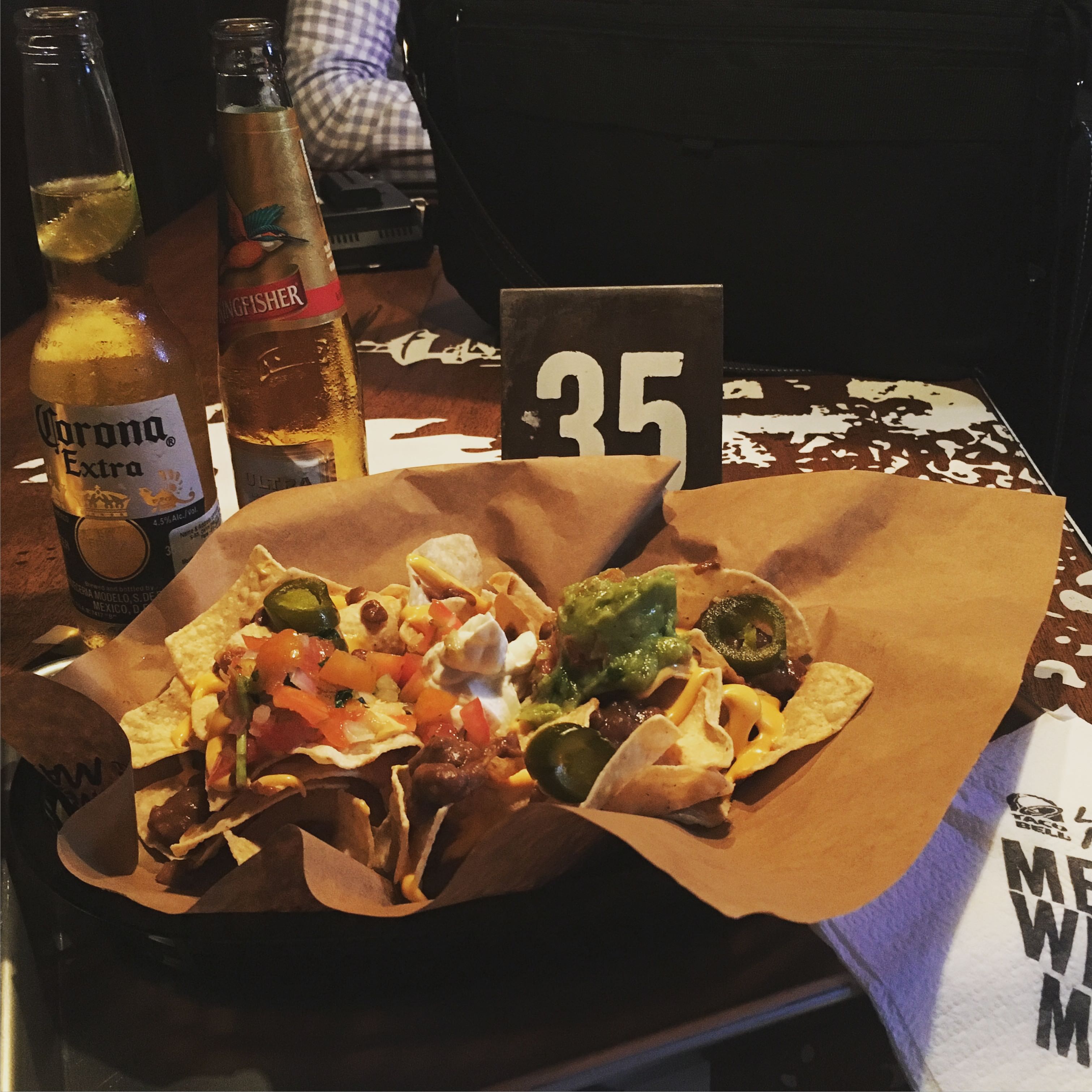 Crispy crunchy corn chips topped with cheese sauce, pinto beans, fresh salsa & a dollop of sour cream with Mexican Chicken. Excellent starter. Bonus points for making it so fresh. Double bonus points for asking if i needed a chip refill. TWICE. Would've loved if there had been more than enough good guacamole that you actually need a chips refill. It's the little things in life.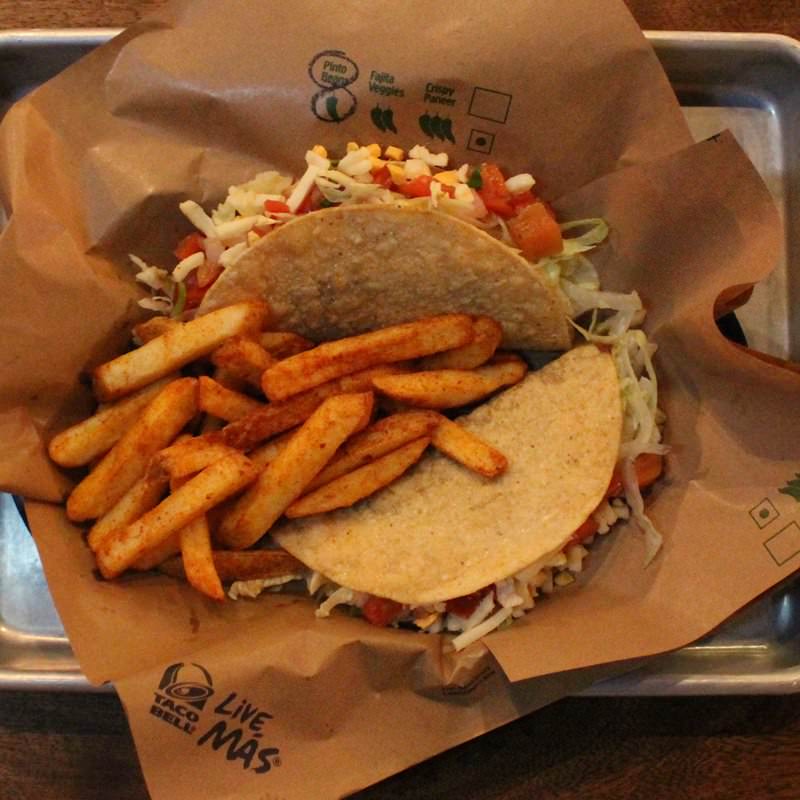 Taco Bell's signature. Crunchy Corn Shell loaded with a filling of your choice, signature sauces, fresh lettuce & salsa. Two variants available – soft shell & crunchy shell tacos.
A heaping plate of taco-safisfaction. Get dirty people.
Crunchy on the outside, soft on the inside loaded with a filling of your choice, signature sauces, fresh lettuce & salsa.
The Chalupa is perfectly cooked – savoury, crunchy, and all kinds of soft. The shell somehow doesn't fall apart when you bite into too, which is impressive. Really enjoyed these and would order again.
A burrito without a wrap! It has layers of Mexican rice, iceberg lettuce, romaine lettuce, fajita chicken, sour cream, freshly cut salsa, sliced jalapenos, guacamole topped with hot chipotle sauce.OPTION OF Fajita Chicken.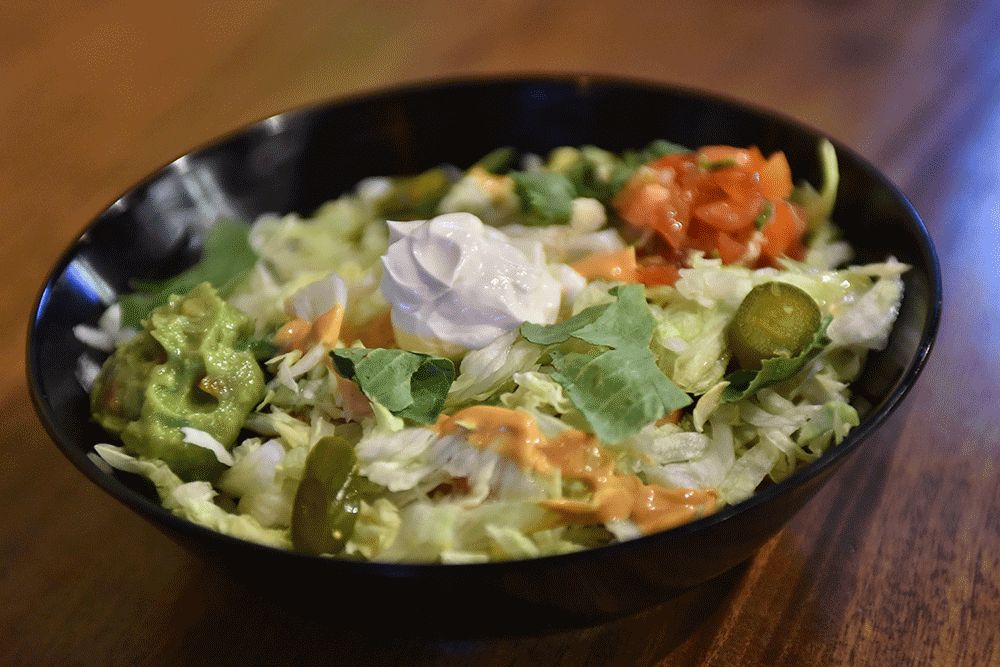 One of my favorite things and possibly the only healthy thing on the menu. incredibly tasty. Order it.
Soft tortilla filled with CHEESE , served with beans , paneer and fajita veggies or crispy chicken.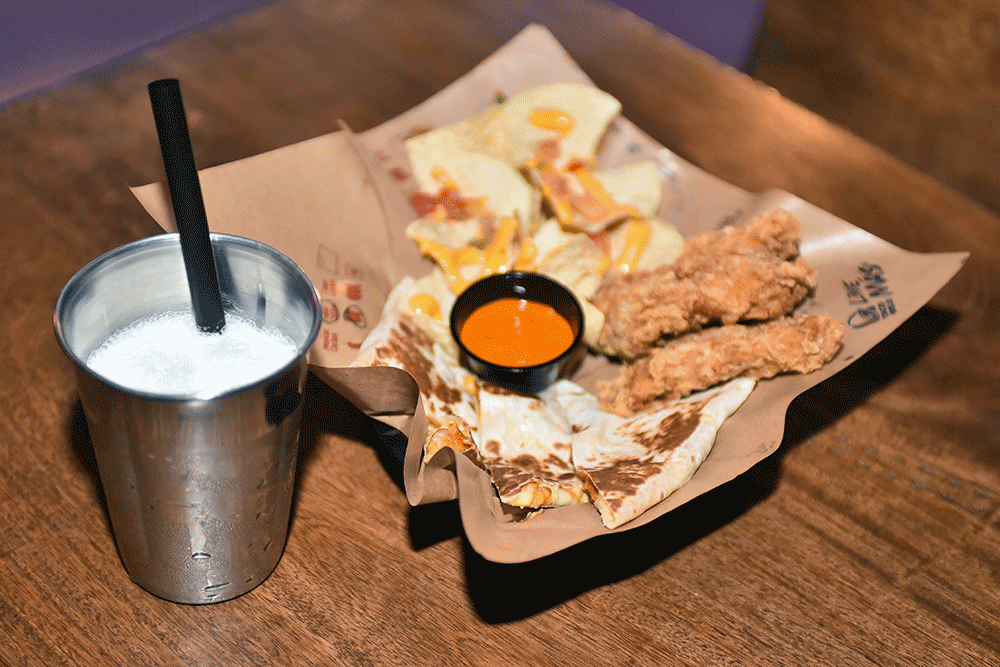 Probably one of the favorite things on the menu. Loved my burrito stuffed with crispy chicken.Incredibly satisfying.
Chocolate Caramel Tostadas
Crispy Crunchy Tostada Chips Loaded with Chocolate & Caramel Sauce with a dollop of Vanilla Ice Cream, sprinkled with cinnamon sugar.
You can't stop eating them once you start!!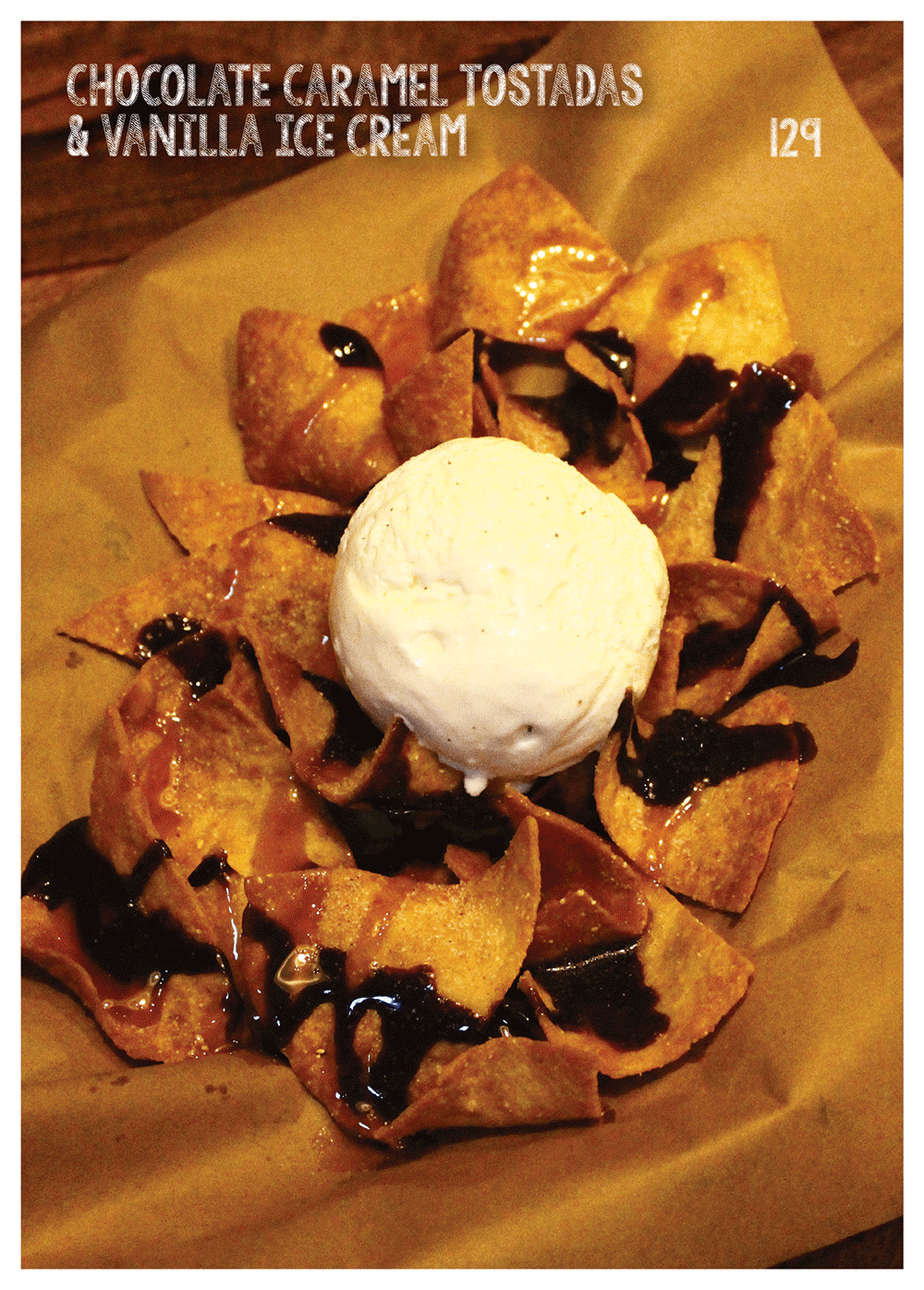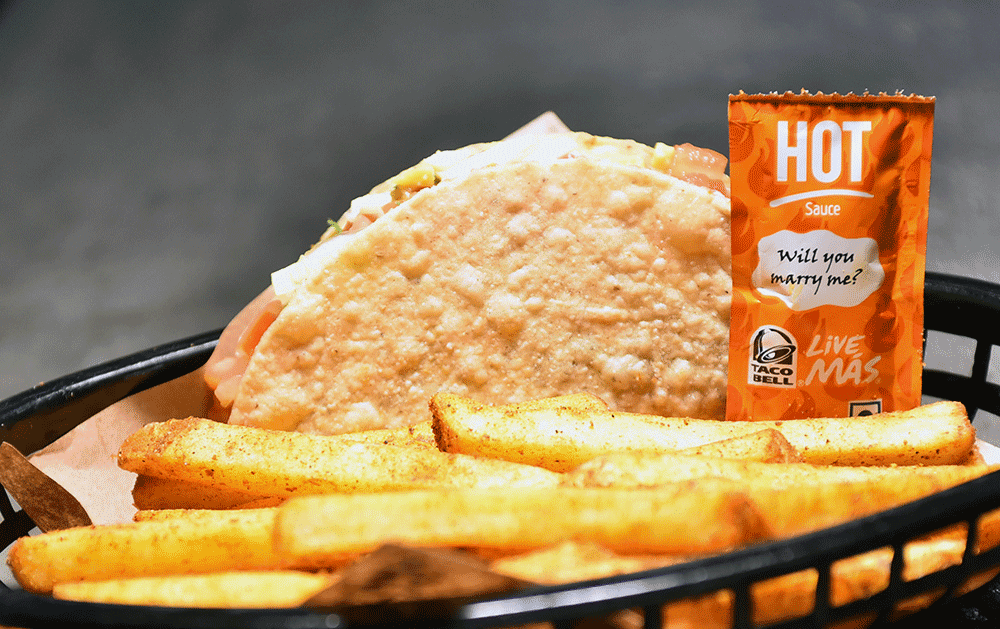 Those who prefer to pack more heat in their food can do so with the Fire sauce or Ghost Pepper sauce. There are also the Cool Ranch  and Smokey Chipotle sauce options.